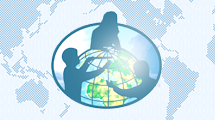 05/01/2008
GLOBE School in Niger Plants 1,000 Trees on Global Youth Service Day
École Diori 1, a GLOBE school in Niamey, Niger, was awarded a Disney Minnie Grant to lead a community service campaign on Global Youth Service Day (GYSD) celebrated this year on 25-27 April 2008. GYSD is a worldwide celebration of young volunteers, whose energy and enthusiasm significantly impacts the communities in which they live. The three-day long event involves millions of young people across the world, with the help of mentors, parents, and teachers. Young volunteers address important community needs through service and service-learning projects addressing climate change, literacy, poverty, human rights, and many other issues.
>>
01/10/2006
Ten Countries Participate in GLOBE International Training Workshop/Regional Meeting
An International Training Workshop took place in Niamey, Niger, during the week of 21 November 2005. The Niger Ministry of Education and the United Nations Development Programme (UNDP) graciously hosted the workshop at the Ecole des Mines, de l'Industrie et de la Géologie (EMIG). The training team came from Benin, Cameroon, Cape Verde, Congo (Brazzaville), Gabon, Mali, Mauritania, Niger, Senegal, and the United States.
>>