10/30/2007
GLOBE Day Unites Students of Diverse Backgrounds at Israel Annual Conference
On 4 June 2007, GLOBE Israel hosted its Annual Conference in Bet-Shearim, Galilee in the North of Israel. More than 650 students and teachers from across the country attended to celebrate "GLOBE Day." GLOBE Israel Country Coordinator, Mr. Farid Hamdan of the Ministry of Education, reports, "GLOBE Day is very special in Israel because it unites students from so many different sectors."
>>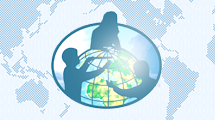 10/26/2007
10th Czech GLOBE Games in Sluknov, Czech Republic
The TEREZA Association and the Secondary Forestry School of Sluknov organized the 10th Czech GLOBE Games, in Sluknov, in May 2007. The games were held under the auspices of the Ministry of Environment, County Council of the town Usti nad Labem and the City Council of Sluknov. Members of the Czech GLOBE Alumni Association cooperated and provided valuable assistance in preparation and organization of the Games.
>>
04/23/2007
Israel Holds Video Conference Event to Celebrate Earth Day 2007
On 19 April 2007, a pre-Earth Day video conference event took place in Tel Aviv, Israel. The goal of the event, according to Mr. Farid Hamdan, GLOBE Israel Country Coordinator, was to deepen the understanding of the GLOBE Program among Israeli elementary and secondary school teachers from all ethnic and religious backgrounds — Jewish, Arab, Druze, and Bedouin; to initiate Earth Day 2007 activities in Israel; and to strengthen national GLOBE implementation.
>>