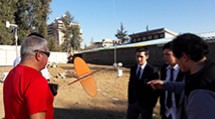 01/11/2017
Conducting Atmospheric Experiments and Raising Awareness in Chile
The meterological campaign conducted by Professor Nicolás Huneeus Ph.D involved a cycle of measurements at three sites in Santiago, Chile to record the standard environmental parameters of temperature, atmospheric pressure, relative humidity, wind, and wind direction.
>>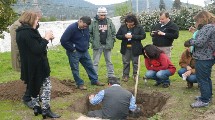 01/22/2015
GLOBE Expands in Chile
On 13 August 2014, 15 schools in the Greater Metropolitan Region of Chile began their journey with The GLOBE Program. The U.S. Embassy, through funding from its Science Corner partnership with the University of Talca, provided GLOBE equipment to 15 schools for a 2014 pilot program in collaboration with the Chilean Ministry of Education, EXPLORA, and several Chilean universities.
>>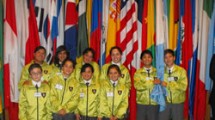 06/29/2011
GLOBE Chile Promotes Leaders for the Future
In December 2010, students, teachers, scientists, government representatives, and Chilean authorities gathered at the United Nations Building in Santiago, Chile, to share the results of GLOBE research conducted in two of the country's watershed areas.
>>
01/25/2010
GLOBE Teacher Receives Prize for Environmental Education Work in Chile
On 22 October 2009, GLOBE Professor Raúl Pérez Orellana accepted an award for his work in environmental education in Chile. Pérez Orellana received recognition at a special event in honor of Environmental Leader Day, having aquired nomination through his contributions to environmental education.
>>
09/18/2009
GLOBE Methodology Guides Citizen Science Workshop in Chile
On14-15 May 2009, an educational workshop attended by teachers involved in environmental education in the Chilean Sixth Region took place in order to initiate activities targeted at involving community members in GLOBE. The teachers who participated in the event had long been awaiting the opportunity to attend a training workshop that would offer innovative applications of environmental education as well as tools to enhance the development of exchange networks.
>>
03/11/2008
GLOBE Across the Curriculum in Chile!
In order to assist in Chile's implementation of the GLOBE Program, GLOBE Chile has aligned the GLOBE Program with national education standards to help teachers incorporate GLOBE into several areas of study. The current Chilean educational policy continuously considers environmental education and management as a cross-curricular objective for Chilean education (Decreto Supremo de Educación Nº 220 de Chile).
>>