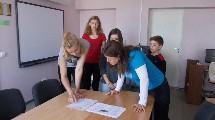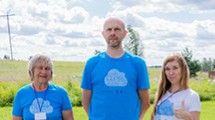 09/15/2016
GLOBE Estonia Celebrates 20 Years
This summer, GLOBE Estonia celebrated 20 years of GLOBE. 130 participants from all over Estonia gathered at the annual learning expedition held in Voore, Estonia from 8-10 August 2016. This year's main focus was on the natural diversity of the area.
>>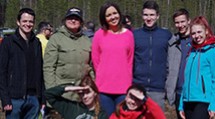 07/13/2016
GLOBE Estonia Celebrates Earth Day 2016
GLOBE Estonia is an avid participant in celebrating Earth Day each year. Most years they celebrate by watching the movie "An Inconvenient Truth," taking a nature hike and attending a reception at the U. S. Embassy. However, this year was special. This year they planted a forest of pine trees.
>>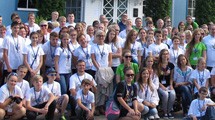 12/16/2015
Estonia Hosts GRLE 2015
This year Estonia hosted the annual GLOBE Regional Learning Expedition (GRLE 2015), which took place from 3-6 August 2015 in Nelijärve, Estonia. This event was organized much in part by GLOBE Alumni and was a celebration of the GLOBE Program's 20th year.
>>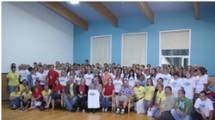 04/05/2011
GLOBE Estonia Brainstorms New Teaching Methods at Seasons and Biomes Workshop
On 10-13 March 2011, GLOBE Teachers, Trainers and Scientists from Belgium, Estonia, Switzerland, and the United States met in Estonia for a four-day Seasons and Biomes workshop. The organizing team consisted of Dr. Elena Sparrow, PI of the ESSP Seasons and Biomes project as well as the Alaska UAF GLOBE Partner Coordinator, Ms. Martha Kopplin, Project Coordinator for the Seasons and Biomes project and GLOBE Trainer, and GLOBE Scientist Mr. Bill Kopplin.
>>
08/11/2010
GLOBE Alumni in Estonia Lead 13th GLOBE Games & Expedition
On Monday, 2 August, 2010, the GLOBE community attending the 14th GLOBE Annual Partner Meeting and Professional Development Workshop in Calgary, Alberta, Canada, received a special surprise. GLOBE Estonia Country Coordinator Dr. Kaido Reivelt and Estonian GLOBE Alumni Janno Jõgeva and Laura Altin linked to the conference through Skype to talk about their 13th Annual GLOBE Games & Expedition Event taking place at the same time! Reivelt and his assistant, Mr. Karli Kütt, also a former GLOBE student and graduate student with a degree in physics, planned the overall event.
>>
09/27/2005
GLOBE Principle Investigator Visits the 2005 Estonia GLOBE Games
Dr. David Brooks, GLOBE Principle Investigator (PI) for Aerosols and Water Vapor, attended the Estonian GLOBE Games, which were held at a summer camp on the shores of the Baltic Sea near the town of Kuuresaare on the island of Saaremaa from August 9 to 11, 2005. Students and teachers from Estonia, Latvia, and Finland gathered to practice GLOBE protocols, make new friends and develop partnerships.
>>