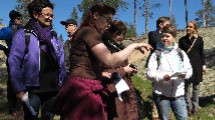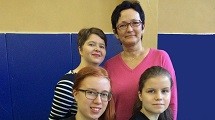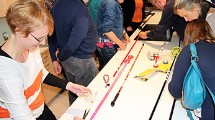 11/22/2013
Creative New Use for Ski Poles in Finland
More than forty new and old participants in the GLOBE Program in Finland kicked off the new school year with an event at the U.S. Embassy in Helsinki. With the assistance of Senior Scientist Achim Drebs from the Finnish Meteorological Institute, the group transformed old ski poles into snow depth measurement sticks and learned how to use them to take scientific measurements of snow depth. This school year GLOBE schools in Finland will participate in a national snow depth measurement project, a project that can be adapted to all ages across the school curriculum.
>>
12/04/2012
Atmosphere Training in Finland Increases GLOBE Student Involvement
On 11 October 2012, a one day GLOBE training workshop was held in Helsinki, Finland. The workshop, which covered basic GLOBE atmosphere protocols including clouds and contrails, precipitation, water vapor, air temperature, and surface temperature, aimed to build capacity in Finland for the benefit of GLOBE students.
>>
05/18/2011
Finland Students Observe Oxygen Levels in Lakes Palokkajärvi and Tuomiojärvi
GLOBE students and teachers at Palokka School in Finland closely monitor and gather data measurements of their schools neighboring Lake Palokkajärvi, a small lake in Central Finland. Lake Palokkajärvi provides the opportunity for Palokka Finnish students to study and research the importance of the environment through GLOBE.
>>
05/13/2008
GLOBE Students and Teachers from Seven Countries Attend
GLOBE students from around the world took part in SciFest 2008 Finland from 16-19 April, in the city of Joensuu. SciFest Finland is an annual festival of science, environment and technology aimed at middle and high school students. It features hands-on activities, popular lectures, games, workshops, robotics competitions and interactive exhibitions as well as workshops for teachers.
>>
03/07/1999
Enon kirkonkylan ala-aste, Eno, Finland
A special partnership between GLOBE students in Finland and South Africa is demonstrating both the scientific and educational benefits of the GLOBE Program worldwide. Their partners in Eno, Finland, at the Enon kirkonkylan ala-aste, have been consistently reporting GLOBE data since fall 1995. According to GLOBE Teacher Mika Vanhanen, his students have a special interest in sharing data and collaborating with GLOBE students worldwide.
>>
02/04/1999
Viitaniemen ylaaste, Jyvaskyla, Finland
Collaboration with schools at home and in other countries is helping the GLOBE students at Viitaniemen ylaaste in Jyvaskyla, Finland to increase their knowledge of both local and global environmental conditions.
>>