12/19/2012
Teachers Enhance Science Learning Through GLOBE Implementation in Uruguay
GLOBE Uruguay organized an important GLOBE Teacher Training Workshop in Montevideo on 26-27 October 2012. Held in both the Alianza Cultural Uruguay—Estados Unidos, and Colonia de Vacaciones de Malvin, 23 teachers attended from all over the country, representing the following departments: Artigas, Canelones, Cerro Largo, Colonia, Durazno, Flores, Florida, Maldonado, Montevideo, Río Negro, Salto, Soriano, and Tacuarembó. Invitations were sent to departments with current GLOBE schools as well as departments where GLOBE schools are not yet established.
>>
04/05/2012
Uruguay Students Look for Life in the Miguelete Stream
Since Uruguay joined the GLOBE Program in 1995, students and teachers have been involved in intensive research projects that aim to improve understanding of the environment amongst themselves and their community. The Republic of India Primary School No. 85 is one of the most productive in Uruguay thanks to the work of dedicated GLOBE teacher Patricia Píriz. Since 2010 students in this school have been involved in a research project to verify the presence of aquatic macroinvertebrates in the Miguelete Stream, one of the most important water sources in Montevideo. The stream measures ​​22 kilometers in length and crosses the city from north to south. It was at one time a preferred site for locals to walk and relax, but has become so polluted in recent years that in 2003 it was categorized as a "dead water course" by "Geo-Uruguay Juvenil," the document on the state of the Environment in 2003. The same was reported by the "Primer Informe Ambiental Montevideo" (IMM) in 2001 when the only existence of an arthropod, an annelid, and a mollusk was reported in the Miguelete.
>>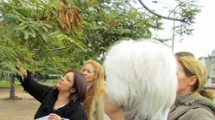 12/13/2007
GLOBE Students in Uruguay Apply GLOBE Data to Cloud Research
A group of 9 and 10 year old students from Republic of India Primary School No. 85 in Montevideo, Uruguay, have established a local science club known as "Cazanubes" or "Cloudchasers." They are carrying out cloud research activities from their school site, applying GLOBE protocols to observe cloud type and cover. The students are continuing the research started by their schoolmates in 2006, by analyzing and comparing data collected over the past two years.
>>
05/09/2007
Uruguay Investigates GLOBE at Night
A group of 4th grade students from the Escuela Primaria "República de la India" in Montevideo, Uruguay worked with the GLOBE at Night activities from 5 - 21 March 2007. These 50 students, from 9 to 11 years old, worked together with their teachers Ms. Nelly Chocho and Ms. Patricia Píriz, to investigate the amount of light contamination in their neighborhood.
>>