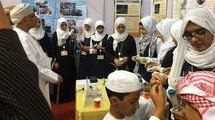 02/08/2017
GLOBE Students Present at Science Fair in Oman
Between 20-22 March 2016, GLOBE Oman held the Scientific Student Inventions of Artificial Intelligence and GLOBE's Environmental Research Fair at the Ministry of Education's stage. The number of participating students in the event this year reached an impressive 118, with 30 of those students presenting in an entire wing for the GLOBE program.
>>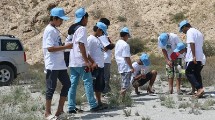 02/23/2016
GLOBE Oman Student Camp 2015
120 students, 50 teachers, and about 30 supervisors and staff members participated in a three-day event in March of 2015 at the GLOBE Oman Student Camp.
>>
06/17/2014
Oman Hosts Its First GLOBE Science Fair
The Ministry of Education in Oman organized a five-day training event for teachers and supervisors from 22 schools, including ten new schools, to the Sultanate's GLOBE Program. With the addition of these new schools, the GLOBE Program is now active in every region in Oman.
>>
06/12/2012
Oman Holds First GLOBE Student Forum in Muscat
On 2 May 2012, representatives from GLOBE schools in Oman came together in Al Qurum Natural Park, the largest park in Muscat, to participate in the first forum for GLOBE students. The event was sponsored and organized by Oman's Ministry of Education. The programs and activities planned throughout the day were designed to emphasize the hard work and accomplishments of GLOBE schools during the 2011-2012 school year and to encourage team work and collaboration between schools.
>>