The GLOBE Program Welcomes Slovenia
Dec 08, 2020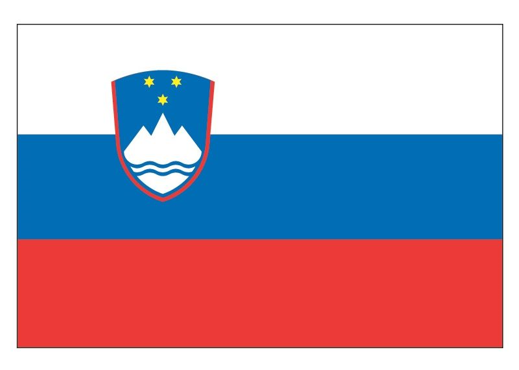 On 03 December 2020, the Republic of Slovenia became the 124th GLOBE country in a signing ceremony that was broadcast live from (and which is available on) the Slovenian Press Agency website, as well as the https://www.facebook.com/slovenia.usembassy.
Minister Simone Kustec of the Slovenia Ministry of Education, Science and Sport, recognized The GLOBE Program's opportunities for international scientific collaboration, teacher training, open-source educational materials, and commitment to creating gender balance in STEM fields in the future. Kustec said she wanted the program to thrive in Slovenia.
Ambassador Blanchard spoke of her abiding respect for Slovenia's commitment to family, education, cultural heritage, and environment. She expressed a belief that the values embodied in The GLOBE Program hold the promise of many years of fruitful collaboration and scientific ties between Slovenia and the United States.
As representatives of their respective governments, Dr. Kustec and Ambassador Blanchard signed the bilateral Memorandum of Understanding, which officially launched Slovenia's participation in the worldwide GLOBE program.
Dr. Simona Kustec, Minister of Education, Science, and Sports, The Republic of Slovenia
Ms. Lynda Blanchard, United States Ambassador to Slovenia
Acting Assistant Secretary Jonathan Moore spoke about the significance of Slovenia's participation in GLOBE, and commended the GLOBE Implementation Office (GIO) and the GLOBE community for expanding efforts to research, understand, and sustain our environment.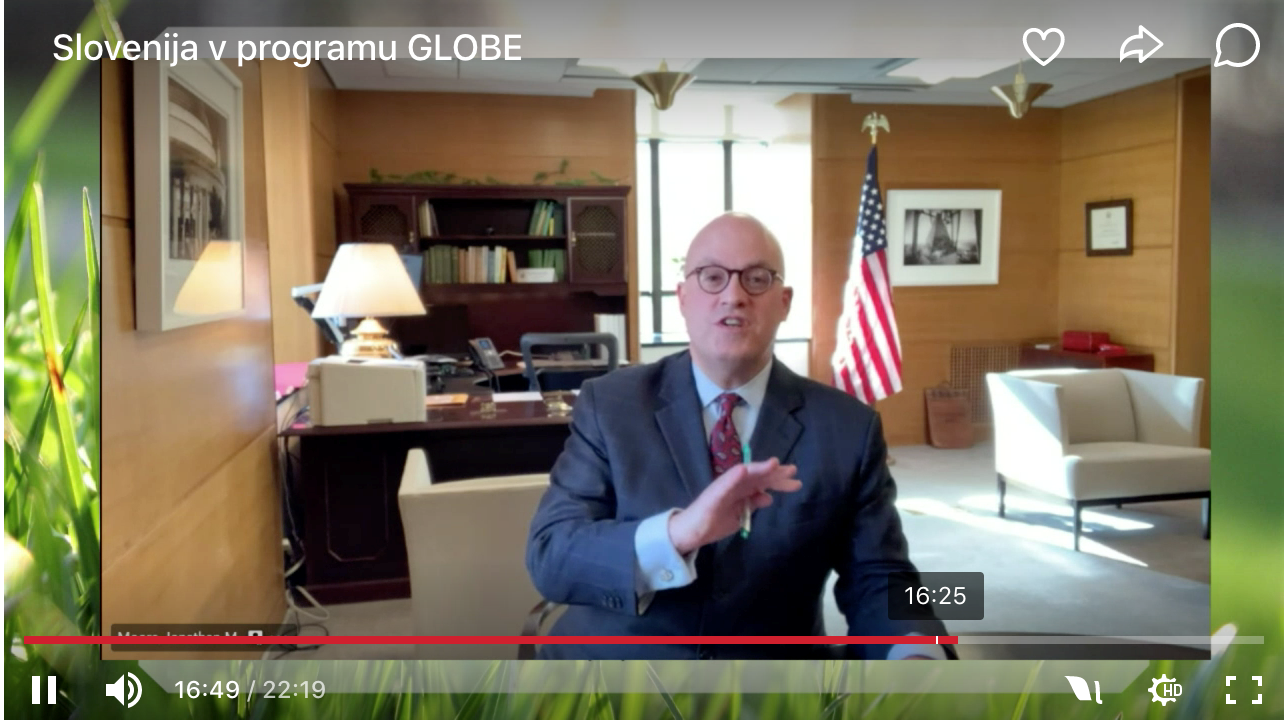 Mr. Jonathan Moore, Acting Assistant Secretary, Bureau of Oceans, international Environmental and Scientific Affairs, United States Department of State
Dr. Allison Leidner, GLOBE Program Manager, joining online from Washington D.C., expressed NASA's delight at welcoming Slovenia during this, GLOBE's 25th Anniversary, year. "For over 60 years NASA has used the vantage point of space to study Earth, working with partners around the world. NASA's observations of Earth's complex environment are critical to understanding how the environment is changing and could change in the future. The GLOBE Program has now contributed nearly 200 million measurement from a different perspective, the ground, of Earth's air, living systems, and soil," said Dr. Leidner. "The students, teachers, and citizen scientists responsible for these measurements make valuable contributions to scientific discovery and NASA's mission of understanding our home planet, my favorite planet!"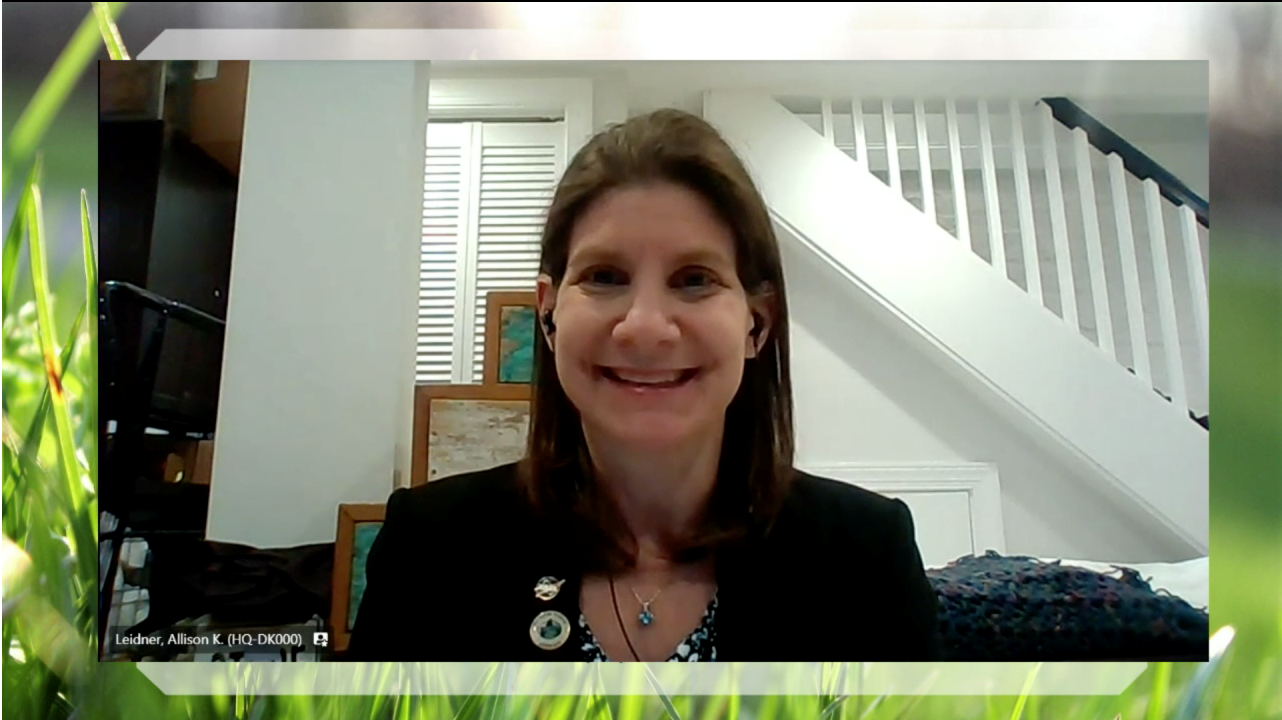 Dr. Allison Leidner, GLOBE Program Manager, NASA Earth Science Division, Science Mission Directorate, Washington D.C., USA
GIO Director Dr. Tony Murphy concluded this very cordial and seamless event with remarks about GLOBE's hope to assist Slovenia in building a strong program in science and education, with the support of GIO and GLOBE's Europe and Eurasia Regional Coordination Office, which is based in the Czech Republic. He mentioned GLOBE's community-driven strategic plan and GLOBE's five Working Groups with members for all regions, which together help to expand the impact of GLOBE around the world.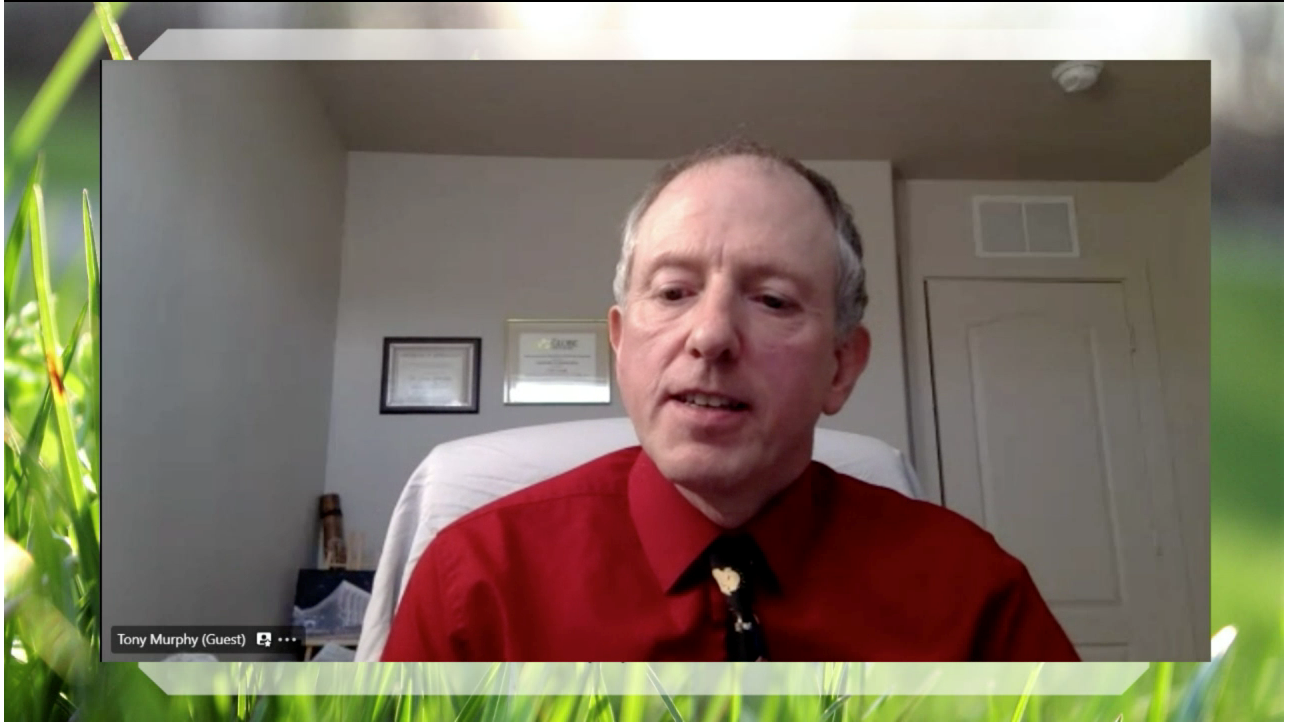 Dr. Tony Murphy, Director, GLOBE Implementation Office, Boulder, Colorado, USA
Godrazd Jukovic, from the Slovenian Press Agency, moderated the broadcast. GLOBE International Coordinator Lyn Wigbels has been instrumental in developing the partnership with Slovenia since 2017.
Slovenia now joins the GLOBE network of 124 countries worldwide, including 44 countries in the Europe and Eurasia Region.
News origin: GLOBE Implementation Office
---
Comments