Cloud Cover Around the Globe
Student(s):Addy Fleming, Will Hampton, Ava Joyner, and Alyssa Pack
Grade Level:Upper Primary (grades 3-5, ages 8-11)
GLOBE Teacher:
Contributors:
Report Type(s):U.S. Student Research Symposia (SRS)
Protocols:Clouds
Language(s):
Date Submitted:05/22/2019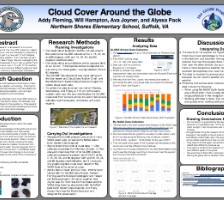 The objectives of this research is to research cloud cover percentages across the globe and how they differ based on location. Our research topic is cloud cover. We are interested in researching this topic because it could lead to a new path of technological advancement in ways to predict weather. It can also help us learn about global warming and climate change. We are investigating the atmosphere with this research because it could help us predict more dangerous weather and help save lives in the path of that weather. Additionally, investigating the cloud cover in different areas can help predict if global warming is potentially happening in that location.
Comments