Did the El Nino Event Impact Our Temperature and Precipitation in Nov., Dec., and Jan.?
Student(s):4th grade students: Colin Henry, Bryan Altman, William Emmet, Camila Sanchez,, Jalayna Sharpe, Rayyaan Dasti, and Kevin Miller 3rd grade students: Arth Babbar, Edwin Cho, Ian Harper, Taylor Hooven, Abby Hubbard, Christian Pak, and Maddie Sera
Grade Level:Upper Primary (grades 3-5, ages 8-11)
Contributors:
Report Type(s):International Virtual Science Symposium Report
Protocols:
Optional Badges:Be a Collaborator, Be a STEM Professional
Language(s):
Date Submitted:03/10/2016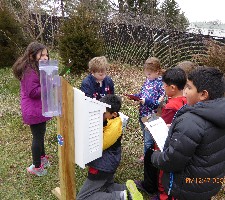 We noticed that we were having warm weather around Halloween, and we wondered why the weather seemed to change. We learned about a weather event called the "El Nino" that might change our weather this winter. We decided we could collect our own temperature and precipitation data using GLOBE protocols, and supplement that data with data for the closest airport to us that the National Weather Service collects. For the months of November, December, and January, we collected data, and in February we worked on analyzing the data, writing our research report, and communicating our findings to each other. We are planning to have a school-wide assembly and have invited Jason Samenow, a local meteorologist, to come speak and hear the results of our research. He said he would come!
Comments