Lighting Up?
Student(s):Nella Forney
Grade Level:Middle School (grades 6-8, ages 11-14)
Contributors:
Report Type(s):Standard Research Report, U.S. Student Research Symposia (SRS)
Protocols:Aerosols, Air Temperature, Barometric Pressure, Clouds, Relative Humidity
Language(s):English
Date Submitted:06/17/2020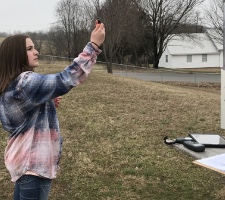 This investigation analyzed the amount of light and UV radiation that penetrated different colored umbrellas, different level of clouds, and SPF-30, 50 and 70 sunscreen. It was predicted that the darker umbrella materials would block most of the UV radiation, the clouds would not all block enough to be safe from sunburn, and sunscreens would block the UV radiation. A light meter and UV meter were used to collect 10 sets of data from sunlight and UV radiation going through white, maroon, black umbrellas; upper-level cirrostratus, mid-level altostratus, low-level stratus clouds; and SPF-30, 50 and 70 sunscreen sprayed on clear laminate sheets. GLOBE data for Clouds, and Aerosols was collected and entered into the GLOBE database for each observation. Umbrella Tests: Direct sunlight: 104,520Lux, UV Index=10.25; White: 44,160Lux, UV Index=0.5; Maroon: 9,790Lux, UV Index=0.0; Black: 9,790Lux, UV Index=0.0. Cloud Tests: Direct sunlight: 103,420Lux, UV Index=10.35; High-level Cirrostratus: 90,030Lux, UV Index=7.7; Mid-level Altostratus: 49,600Lux, UV Index=4.05; Low-level Stratus: 7,650Lux, UV Index=0.4. Sunscreen Tests: Direct sunlight: 97,120Lux, UV Index=9.65; Direct Sunlight through Clear Laminate Sheet: 92,320Lux, UV Index=8.6; SPF-30: 88,230Lux, UV Index=0.7; SPF-50: 88,050 Lux, UV Index=0.3; SPF-70: 90,270Lux, UV Index=0.15. The hypothesis was supported by the data. Maroon and black umbrellas blocked all the UV radiation and white 95%. 75% & of UV radiation went through high-level clouds, and mid-level clouds let 39% through. Low-level clouds blocked 96% of the UV radiation. The sunscreens all worked well; SPF-30 blocked 93%, SPF-50 blocked 97%, and SPF-70 blocked 98.5% of the UV radiation.
Comments