Letter to the Community
23 May 2017
Dear Friends,

There's something in this letter for everyone, so thanks for taking the time to read it!
Teachers, those of you in the Northern Hemisphere are probably in the throes of bringing the school year to a close. To you, and to all GLOBE teachers everywhere, I want to say thank you. This program would not exist without your dedication to bringing GLOBE to your students and finding ways to make it fun and interesting in the process. For those in the Southern Hemisphere, we look forward to your continued work over your winter and data continually being entered.
Students, especially those who entered the International Virtual Science Symposium (IVSS): great work! So many of the projects entered showed considerable creativity and effort. Thank you for taking time to work on this, learning about your local environment, and sharing it with the rest of the community. I would also like to thank the scientists and STEM professionals who volunteered to mentor the students and to score the projects. This year, we received 147 projects from all six GLOBE regions, an overall increase in number and regional representation. Thank you all so much for this effort.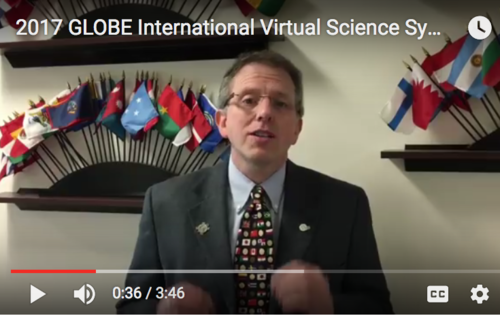 Last week, four teams were selected by random drawing (from among those teams that adhered to all of the requirements for submitting projects) to receive some financial support to attend the GLOBE Annual Meeting and Student Experience in late July. I look forward to meeting the teams (listed here) from France, Israel, and the United States (Colorado and Ohio), and to all of the teams that will be coming to the United States this summer.
I'm assigning homework to you, even - or especially - if you are about to begin your summer holiday.
Check out our Pinterest page, for ideas about, and activities for, implementing GLOBE in your classrooms.
Read the latest ENSO blog and keep current on the ENSO Campaign.
Give serious consideration to attending the 2017 GLOBE Annual Meeting (30 July - 03 August) in New Haven, Connecticut, USA. The location, near the beaches of Long Island Sound, and within an hour by train from New York City, has plenty to offer for fieldwork and for trip extensions after the event. Our Partner, Dr. Scott Graves, and his colleagues at Southern Connecticut State University have been extremely welcoming about sharing their campus with us. Register soon to ensure accommodation at our conference hotel and start looking into flights to New Haven. This is a busy time of year for travel in the U.S. and the sooner you book your seats the better. Partners, this message is for you, too!
GLOBE teachers and partners in North America -- are you aware of the coming total solar eclipse on 21 August? I'm planning to drive a few hours north of Boulder to enter the 60 mile-wide band of Earth that stretches from Oregon to South Carolina, in order to experience the eclipse in "totality." This is the first opportunity to see a total solar eclipse in North America in 26 years and I don't want to miss it!
We have posted a suite of GLOBE learning activities on our website that you can use to enhance this amazing opportunity. You can access several pages of eclipse information, including ideas for eclipse research and instructions on how to view the eclipse safely, through the GLOBE Website Eclipse Overview page. Partners, you might want to start planning now to engage your community's teachers and citizen scientists by make the eclipse a community event. And teachers, this might be a fantastic opportunity for a back-to-school learning event, as the eclipse may well coincide with the return to classes after the summer holidays.
That's all for this month! In closing, I would like to include a tip of the hat to our GLOBE sponsors who make all of the above possible. Thank you for your continued support.
Enjoy the week everyone.
Sincerely,





Dr. Tony Murphy
Director, GLOBE Implementation Office
tmurphy@ucar.edu