February 2018 News Brief top
February 2018 GLOBE News Brief
New Aerosols (Atmosphere) eTraining Now Live!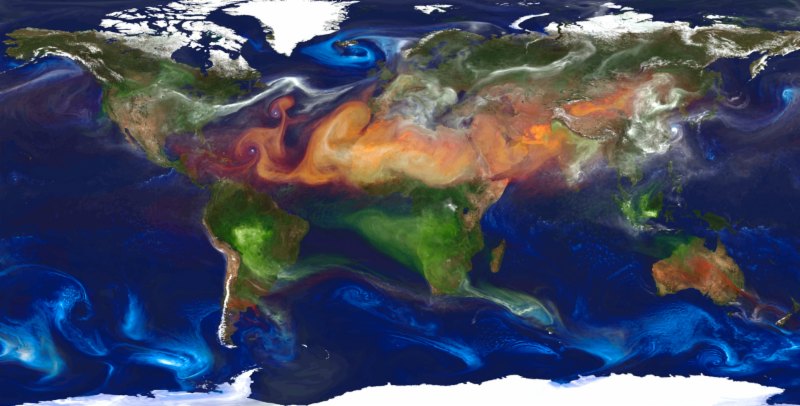 The GLOBE Program is pleased to announce that a new Aerosols eTraining is now live! Aerosols are mixtures of liquid or solid particles in a gas. Despite their small size, aerosols have a significant impact on climate and health. This new eTraining module (which is offered as part of the GLOBE eTraining atmosphere protocol area) describes how to measure aerosol optical thickness (AOT) using one of two instrument options (GLOBE Sun Photometer or Calitoo).
To check out this new eTraining, click here.
The GLOBE eTraining Program offers teachers a powerful portal where they can access the training materials they need to lead a classroom in data collection and lab procedures associated with a GLOBE protocol, and an introduction to the GLOBE community. There are now 48 eTraining modules available.
To learn more about GLOBE eTraining, click here.
February 2018 News Brief Left
News
Visit the One-Stop Shop for the 2018 GLOBE Learning Expedition! Register Today and Save Your Space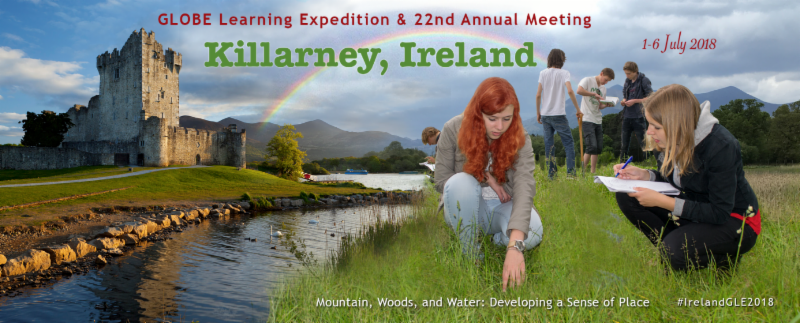 Visit the "One-Stop Shop" for the 2018 GLOBE Learning Expedition (GLE) and the 22nd Annual Meeting. The 2018 GLE will be hosted by the GLOBE Implementation Office (GIO), along with the Europe and Eurasia Regional Office. The theme of the meeting is "Mountain, Woods, and Water: Developing a Sense of Place." Register today and save your place for this event of a lifetime (registration is being limited to 400 participants, so act now).
GLOBE Students: Attending the 2018 GLE in Ireland? Be a Keynote Speaker!
GLOBE students: Are you attending the GLE? Would you like to be a Student Speaker? From among the students registered for the GLE, one student from each GLOBE region will be selected to present a keynote address (5-10 minutes). The application deadline is 15 March. (Regional Coordination Offices will make their selection from all submissions and send them to the GIO by 01 April.)
Application Process
Step 1: Make a short (3-5 minute) video.
Step 2: Send your completed video to your Regional Coordination Office.
The videos of the selected speakers will be hosted on the GLOBE YouTube channel and shown live for GLOBE's Earth Day Celebration in 2018.
To learn more about the application process, click here.
To learn more about the GLE, click here.
Keep up with the GLE news on social media: #IrelandGLE2018.
---
2018 GLOBE Annual Meeting in Killarney, Ireland: Call for Presentations – Applications Due 01 March
Presentation applications are now being accepted for the 2018 GLOBE Annual Meeting, which will be taking place on 01 July 2018 in Killarney, Ireland. All presentations at the Annual Meeting will be oral presentations (no posters this year!).
Timeline:
Presentation applications due: 01 March 2018 (Note: No late applications for presentations will be accepted.)
Presentation acceptance notification: 15 March 2018
Presenter confirmation of time and attendance at the Annual Meeting: 01 April 2018
To learn more about the GLOBE Annual Meeting, click here. To fill out the application form, click here. (Please note: Registration and travel funds are not available for presenters.)
---
Haven't Filled Out the 2017 GLOBE Annual Survey Yet? Please Complete by 19 February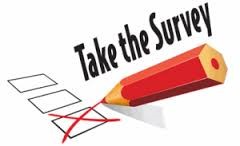 Are you a GLOBE teacher, scientist, Country Coordinator, or U.S. Partner? If you haven't already completed the 2017 GLOBE Annual Survey, please do so by 19 February. Your participation in this year's GLOBE Annual Survey is critical because the results will comprise the final data points of a five-year trend analysis that will track all survey responses since 2013. The analysis will provide the means to characterize and describe the growth and changes of the GLOBE community over this five-year period.
To start the survey, click here.
(NOTE: It is important to complete the survey in one sitting, as your responses will not be saved if you exit the survey prior to completion.) Thank you for your invaluable input!
---
GLOBE International STEM Network (GISN) Now Accepting Early Career STEM Professionals

The GLOBE International STEM Network (GISN) is now accepting early career STEM professionals.
This GISN subgroup will consist of members who are upper-level undergraduate or master's students pursuing a degree in a STEM field, as well as recent graduates who are working in STEM fields who have less than five years' experience.
The GLOBE Program believes that early career STEM professionals will benefit GLOBE students, teachers, and partners by establishing ties with the next generation of STEM professionals. GLOBE also believes that this action will empower the next generation of STEM leaders to participate in the scientific process; collaborate with successful peers; find mentors among a group of established professionals; participate in data collection and the scientific process with international schools; and further the GLOBE goal of contributing meaningfully to our understanding of the Earth system and global environment.
To learn more about the GISN, click here.
---
Peace Corps GLOBE Hydrosphere Learning Activity Now Available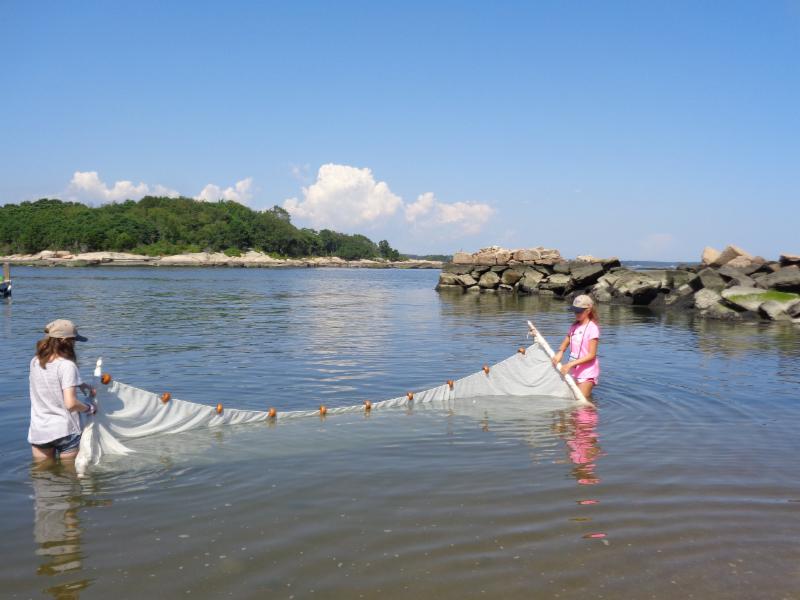 There is a new Peace Corps GLOBE Hydrosphere Learning Activity available. Through this hands-on experience, students will study and visit a hydrosphere study site; conduct a visual survey to discover information about local land cover and water quality, and document their findings. The objectives of this learning activity are:
Students will learn different methods for finding out about a study site, such as through library research, field visits, and interviews
Students will learn about their hydrosphere study site and begin to develop their investigation.
Students will reflect on local water issues, and present potential indicators and solutions.
To learn more about this learning activity, click here.
---
Submitting a Global 2018-2019 GLOBE Field Campaign Proposal? Due to GIO by 28 February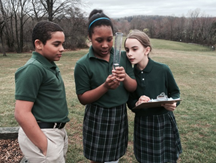 GLOBE's Global Field Campaigns provide students with hands-on opportunities to explore and learn about Earth through a network of students, teachers, and scientists – projects designed to promote collaboration and to increase Earth science awareness.
If you have any questions or need additional information, please send an email to communications@globe.gov.
---
2018 GLOBE IVSS Reports/Presentations Due 01 March; Judging Webinar on 16 March
Are you preparing for the 2018 GLOBE International Virtual Science Symposium (IVSS)? Here are some important dates to keep in mind:
The Informational Judging Webinar for the 2018 IVSS will take place on 16 March at 10:00 a.m. MT/12:00 p.m. ET. (Judges should save this link and join on the 16th.) The webinar will be recorded and shared with all judges.
Here are some important IVSS dates to keep in mind:
Reports and presentations due: 01 March
Judging period: 18-24 March
Feedback and virtual badges released: 06 April
Live drawing for stipends: 06 April (to help with attendance at the GLE in Ireland)
Ready to upload your report? To enter (upload) your report, click here. (Scroll down and click on the blue button: "Upload Your Research Report". Make sure to select the "International Virtual Science Symposium" and that your report is dated in 2018. You can select up to three optional badges – and please also make sure to let us know if you plan on attending the 2018 GLE.)
Want to share information about the 2018 IVSS? Click here and share downloadable images.
---
Connect with Returned Peace Corps Volunteer and NASA Astronaut Joe Acaba in Space: 07 February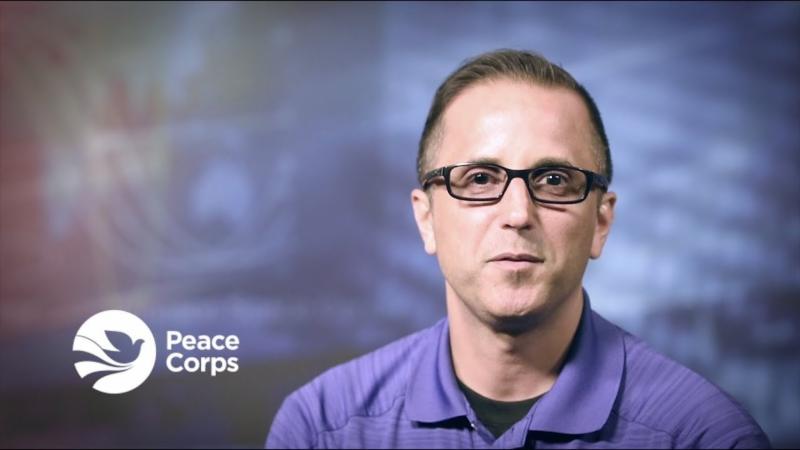 On 07 February (9:00 a.m. to 11:00 a.m. ET), Returned Peace Corps Volunteer (RPCV) and NASA Astronaut Joe Acaba will link directly with Peace Corps from the International Space Station and answer questions from around the world about STEM and life in space.
The conversation will be broadcast live on NASA TV.
To learn more, and to register for this event, click here.
Did you know that The GLOBE Program and Peace Corps share a common commitment to the environment, education, youth development and empowerment, capacity building, and cultural understanding? Since 1995, GLOBE and Peace Corps have informally collaborated on activities in countries in Africa, Asia and Pacific, Europe and Eurasia, Latin America and Caribbean, and the Near East.
To learn more about the GLOBE/Peace Corps collaboration, click here.
---
Peace Corps and STEM? Yes! Check Out these Events, Activities, and Resources

GLOBE Teachers (K-12), need assistance and support with STEM-related lesson plants, activities, and general information? Committed to creating opportunities in STEM education and careers, The Paul D. Coverdell World Wise Schools program and educators are finding ways to focus on this transformation in the 21st century. For example, some resources include:
STEM Opportunities for Learners: View updated materials to share with your learners. Have your students find a project or activity to increase their interest in STEM education. (To learn more, click here.)
Connect Your Classroom with Peace Corps Volunteers: The Global Connections program allows your learners to interact with Peace Corps Volunteers and their host countries and cultures, including STEM education. Volunteer stories, projects, and experiences can provide U.S. students with unusually candid first-hand perspectives of cultures worldwide.
For a current listing of events, activities, and resources to engage your learners, click here.
---
Opportunities for Teachers
U.S. opportunities are often highlighted in the News Brief simply because we are more aware of them through our local media; however, if there are opportunities for GLOBE students and/or teachers in your region you would like us to highlight in the coming months, please send the information to communications@globe.gov.
NASA STEM Educator Webinars
February 2018 News Brief Right
Judges Needed for the IVSS!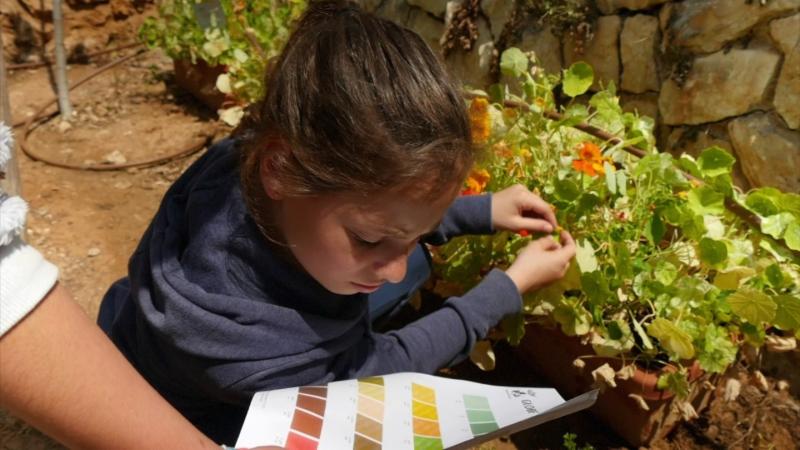 Scoring Projects: In March, the GIO will need your assistance with scoring the student projects. There will be an informational webinar on 16 March, and judging will take place from 18-24 March. (Judging will consist of filling out a Google form with your scores and feedback.)
Mentoring Students: We need volunteer STEM professionals to assist student researchers. Students may have questions about a science topic or the research process in general. Please view the "Students Needing Mentors" page for mentoring opportunities.
If you have any questions please send an email to help@globe.gov.
---
GLOBE Teachers: Check out These IVSS-related Blogs – Help is a Click Away!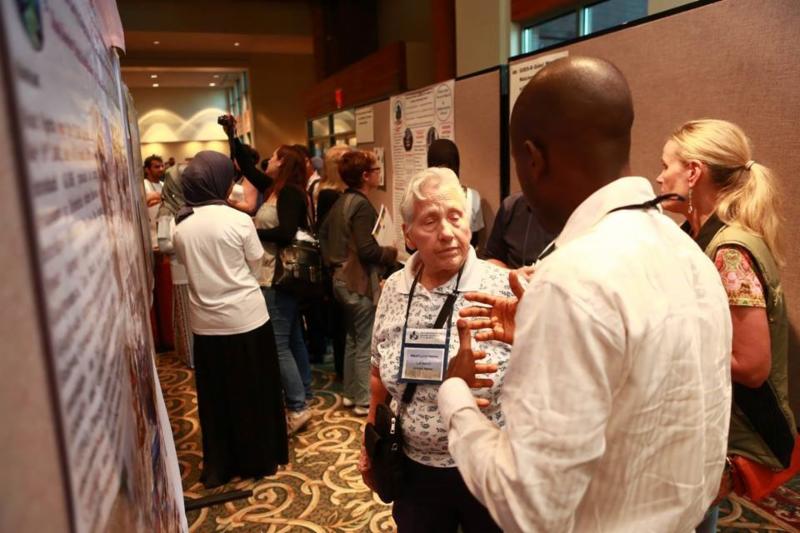 Are you and your students participating in the 2018 GLOBE International Virtual Science Symposium (IVSS)? Then you may want to check out these IVSS-related blogs (posted over the last few months on the Community Blog page):
Help for some of your questions may be just a click away!
---
GLOBE Teachers: Are You Looking for a Research Project for the IVSS? Consider the 2017 Total Solar Eclipse Data Set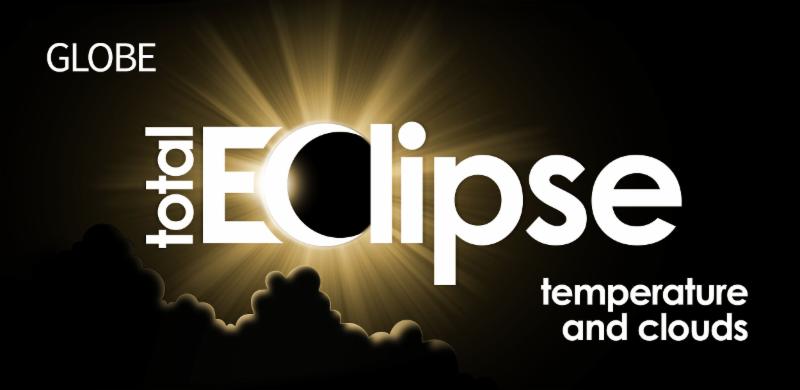 GLOBE Teachers/Students: Are you looking for a last-minute idea for a research project for the GLOBE 2018 International Virtual Science Symposium (IVSS)? Or just some interesting data to explore? Then you might want to consider the 2017 Total Solar Eclipse data set.
On 21 August 2017, over 10,000 observers collected over 80,000 air temperature measurements and nearly 20,000 cloud observations. Which locations saw the biggest temperature drop during the eclipse? How did the change in temperature vary based on how far from totality the observer was? Did places that were cloudy have more or less temperature change than places with clear skies? These questions, and more await your investigation. (As an extra incentive, if you submit a report that includes data from the eclipse, you will receive a special "Eclipse Data Analysis" virtual badge from the GLOBE Observer team! Please note, however, that this is separate from the badges awarded as part of the IVSS rubric.)
To learn more, and to see example graphs and tips and tricks for accessing the data, click here.
---
Keeping Up with the Phase III ENSO Campaign? Then Join These February Webinars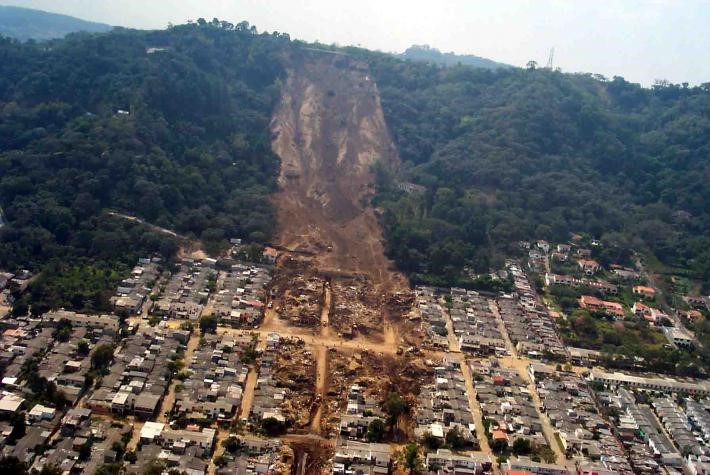 Are you participating in the Phase III GLOBE ENSO (El Niño Southern Oscillation) Student Research Campaign? Then you'll want to join in on the two ENSO webinars in February:
08 February (8:00 p.m. EST), Science and Research Webinar #6: "Deadly Landslides Strike California" – During this webinar, participants will take a closer look at the recent landslides that have occurred in California. Dr. Dalia Kirschbaum, a NASA scientist who is an expert on landslides, will explain how and why landslides are studied from space. Dr. Tom Farr, a NASA geologist who works at NASA Jet Propulsion Laboratory (JPL), whose home was affected by recent mudslides, will explain the causality of this natural disaster, as well as its impact on the community. During the collaboration time, participants will discuss some of the GLOBE protocols that can be used to predict these natural disasters and to describe their impact on the environment. To join this webinar, click here.
28 February (4:00 p.m. EST), Short Observation and Data Analysis) Webinar #3: "SODA, Live from New Jersey, USA" – During this webinar, participants will hear from GLOBE students at Medford Memorial Middle School in Medford, New Jersey, USA. The students will discuss their GLOBE protocol data collection, data analysis, and research to explore the guiding question: "How do wind speed and wind direction affect the chemistry of rainwater?" To join this webinar, click here.
To learn more about Phase III of the ENSO Student Research Campaign, click here.
To receive emails and to sign up for the webinars, click here!
---
Learn to Gather, Map, Analyze and Communicate Your Data Results in ArcGIS Online – Read This Blog!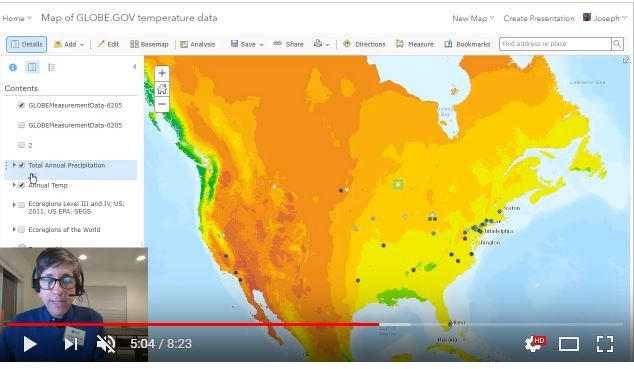 GLOBE Community: Make your data meaningful! Read the latest blog written by Dr. Joseph Kerski, Education Manager at Esri (Environmental Systems Research Institute, which is an international supplier of geographic information system software): "Mapping and Analyzing Data from The GLOBE Program in ArcGIS Online."
GLOBE and the Esri Education Outreach Team have been working together for over 20 years, and this blog covers the details of a recent webinar conducted for GLOBE educators (including the associated presentation and video).
As Dr. Kerski explains in the blog, "The data that students have gathered can be compared in map and table form to data gathered by other students halfway around the world. Students can create multimedia web mapping applications such as story maps to present their data to their peers, teachers, or the community. More capabilities exist, but it is my hope that the presentation and video resource I am sharing here will inspire GLOBE teachers and others to get into the field, gather data, map it, analyze it, and communicate the results."
---
U.S. Community: Join the GLOBE Mission EARTH Teacher Webinar (06 February) and Student Follow-up Webinar (09 February): "Teacher Sharing"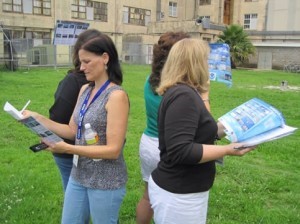 U.S. Community: Join the GLOBE Mission EARTH teacher webinar (Tuesday, 06 February/8 p.m. EST) and student follow-up webinar (Friday, 09 February/1 p.m. EST): "Teacher Sharing."
Join teachers from around the country as they share strategies and tips for implementing GLOBE in the classroom (from elementary to high school). To join both webinars, click here.
GLOBE Mission EARTH is a collaborative of multiple institutions across the United States formed to increase involvement in The GLOBE Program. The mission is to improve education and involvement in science, technology, engineering, and mathematics (STEM) by increasing participation of students and citizens in The GLOBE Program.
To learn more about GLOBE Mission EARTH, click here.
---
U.S. Community: Register for 2018 GLOBE TTT (26-27 March) and NARM (28-29 March) by 01 March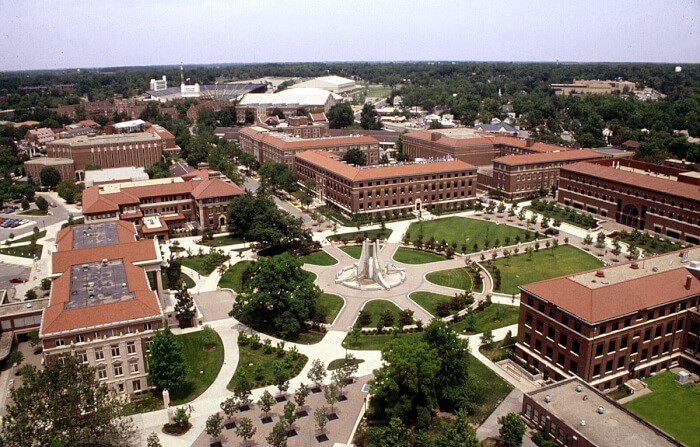 Registration is now open for the 2018 GLOBE Train-the-Trainer (TTT) Workshop and the North American Regional Meeting (NARM). The events will take place at Purdue University, in West Lafayette, Indiana. Please register by 01 March.
The Pedosphere TTT will take place Monday and Tuesday, 26-27 March. The NARM will take place Wednesday and Thursday (28-29 March). The TTT and NARM will have separate registration fees ($50 each or $100 for both).
For more information on the TTT/NARM (including lodging and travel information), click here.
To register, click here.
---
U.S. Student Research Symposia (SRS) Updates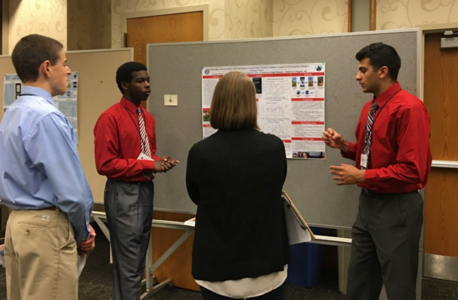 At the 2018 United States Student Research Symposia (SRS), students from across the United States have the opportunity to come together at one of six face-to-face regional symposia to share the results of field investigations using GLOBE program protocols. As in previous years, the SRS are open to all U.S. GLOBE students and teachers.
Upcoming SRS Webinar: "Creating a Science Poster"
This webinar will be held on 13 February at 7:00 p.m. ET. The webinar will be hosted by Tracy Ostrom at the University of California Berkeley (the Pacific SRS Lead). Discussion will focus on student examples from last year's SRS events and the 2017 IVSS; there will also be time for questions. Register in advance here.
Have a question about Student Research or SRS? Ask the Hotline Team! Fill out this short form and you will be connected with an experienced GLOBE teacher who can help!
Connect With Us
The GLOBE Program depends on you to let us know what is happening in your regions, countries, communities, and classrooms. Send us news you would like to share with the GLOBE Community and we'll include it in next month's News Brief. Be sure to include photos, too.
Send your message to communications@globe.gov
Be sure to follow us on social media! Just click on the icons below.
---
News Brief Archive
All past issues of the GLOBE News Brief are available in the online Archive.