Join 20 May GLOBE Mission EARTH Webinar "What's a Phenological Garden? Cycles of Life in Your Classroom and Neighborhood"
May 15, 2020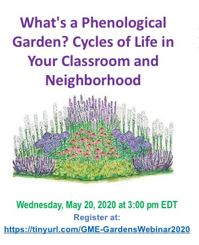 GLOBE Mission EARTH (GME) will host a webinar, "What's a Phenological Garden? Cycles of Life in Your Classroom and Neighborhood" on 20 May at 3:00 p.m. EDT.
Now is the time when many of us are adding plants to our local environments. Many schools have phenological gardens; however, due to the coronavirus, students are not able to observe the changes occurring. Why not plant your own garden where your children can observe the changes happening to the plants throughout the year. As citizen scientists, they can contribute their data to GLOBE's Green Up/Green Down Protocol. In this webinar,
Dr. Kevin Czajkowski, from the University of Toledo (Toledo, Ohio, USA), will introduce the GLOBE Green‑Up/Green‑Down Protocol tie to the science of phenology.
Markus Eugster (Sekundarschule Uzwil, Switzerland) will lead off the discussion of the extensive data collected by his students over many years on his school's phenological garden. (In fact, his sufficient longitudinal data shows the shift in the growing season.) He will share how he made the gardens interesting by listening to his students' interest and planted fruit bearing plants for that purpose.
Kathleen Johnson and Dr. Peter Garik, from Boston University (Boston, Massachusetts, USA), will showcase phenological gardens in schools in Providence, Rhode, Island, USA; briefly describe plant and animal phenology classroom explorations their cooperating teachers have done; and discuss what students can do now in and around their homes.
Christine Staschiak, from NASA Plum Brook Lab (Cleveland, Ohio, USA), will describe the conservation efforts made to keep the natural wetlands habitants at the lab.
Sara Mierzwiak, from the University of Toledo, will highlight two school phenological gardens in Toledo, and provide information on creating your own garden of native plants at your home.
To register for the webinar, click here.
To learn more about GLOBE Mission EARTH, click here.
type: globe-news
News origin: GLOBE Implementation Office
---
Comments