2018 GLE Registration and Accommodation Information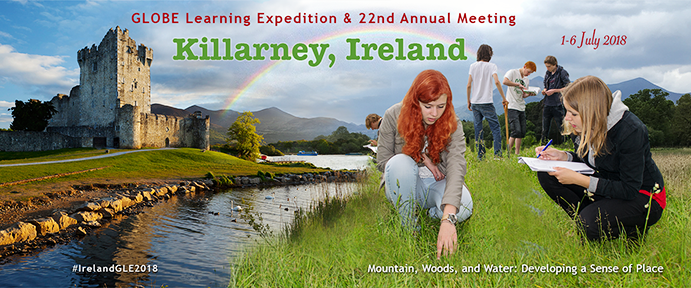 GLOBE Learning Expedition and 22nd GLOBE Annual Meeting
#IrelandGLE2018
Theme: Mountains, Woods, and Water: Developing a Sense of Place
GLOBE 22nd Annual Meeting: 1 July 2018
GLOBE Learning Expedition (GLE): 1-6 July 2018
REGISTRATION IS NOW CLOSED
If you have registered and you need to cancel for any reason after 2 April 2018 you will be refunded at 50% of the registration cost (less processing fees). Cancellations on or after 1 June 2018 are NOT eligible for a refund. This cancellation policy is stated on the registration site and is firm.

What is Included in Your Registration Fee
(Breakfast is not included with your registration fee but it is included with your Gleneagle Hotel and Apartments room night. Single room rate provides one breakfast each day, double room rate provides two breakfasts each day and so forth. Breakfast is provided at the Gleneagle Hotel in the Flesk Restaurant. Breakfast is not included unless you are staying at the Gleneagle Hotel.)

Sunday, 1 July – Breaks and Lunch provided for Annual Meeting Participants (Adult Participants Only – No students)
Additional information about the Annual Meeting and an agenda will be provided at a later date.
Sunday, 1 July – GLE Begins with evening Opening Networking Event and Reception
Monday, 2 July – Refreshment Breaks (mid-morning and mid-afternoon), Lunch, Dinner
Tuesday, 3 July – Refreshment Breaks (mid-morning and mid-afternoon), Lunch, Dinner
Wednesday, 4 July – No meals (Lunch and Dinner are on your own)
Thursday, 5 July – Refreshment Break (mid-morning), Lunch, Closing Networking Event/Dinner
Friday, 6 July – Refreshment Break (Depart at noon)
-Transportation to meeting events and meeting-related activities (provided from/to the conference hotel)
-All meeting materials
IMPORTANT
The GLOBE Learning Experience is a student event and we encourage students from around the world to participate. Due to limited space at the venue, and considerable interest in this event, we have had to put some restrictions on registrations:
There is a maximum of six participants per school (1-2 teachers and 4-5 students for a total of six) and only students (minimum age 10) who are presenting GLOBE research may register.
While we welcome family members to accompany GLOBE participants to Ireland and to stay in the hotel, please understand that our space is extremely limited and therefore they will not be permitted to register, join GLE participants at mealtimes, or participate in GLE activities
Spaces for Country Coordinators, US Partners, and NASA SciAct awardees are also limited. Please do not assume that if you are a member of one of these groups there will be a place held for you.
Accommodations:
The conference hotel is the Gleneagle Hotel which is part of the Killarney Convention Centre.
Gleneagle Hotel and Apartments
Muckross Road
Killarney, V93 V6WF, Ireland
Tel: +353 064 66 36000
The deadline to reserve a room on this room block has passed. Rooms requested now will be at the discretion of the hotel and group pricing cannot be guaranteed. Please contact the Gleaneagle first to see if they can accommodate you. If not, please refer to this list of nearby hotels. We have not contracted with any of these hotels for a group pricing. Nor do we know what the rates will be for your travel dates. This list is provided simply to provide you some guidance to finding accommodations. You are responsible for getting yourself to and from the conference hotel. Also, breakfast each day is ONLY provided to those staying at the Gleneagle.
Air and Ground Transportation:

Your flight to Ireland will take you into Kerry Airport, Cork Airport, Dublin Airport or Shannon Airport.
Kerry Airport is the closest airport to Killarney. It is a small regional airport serving connecting flights from Dublin and direct flights from mainland Europe and the UK. Travel to Killarney from Kerry Airport is available by train, bus or taxi. Options for ground transportation from Kerry Airport to Killarney can be easily found on the Kerry Airport website.
Cork Airport is the closest principal international airport to Killarney. Travel to Killarney from Cork is available by train, bus, car or taxi. It is approximately 1.5 hours away. Please note that if you choose to rent an automobile, cars are driven on the left side of the road. More information about ground transportation from Cork Airport to Killarney is available on the Cork Airport website.
If your flight takes you to Dublin Airport, the best way to travel to Killarney is by Irish Rail (Iarnród Éireann). The departure station in Dublin is Heuston. You can get to the rail station in a number of ways, bus or taxi for a large group. Various bus services are listed here, the Airlink Express may be the best option. Train tickets, if purchased in advance online are quite a bit less expensive than if you purchase the day of travel. Vending machines are available at the stations to purchase tickets or collect pre-purchased tickets with a confirmation code. There are several departures during the day and travel time is approximately 3.5 hours with a likely stop/change at Mallow station. Traveling by train through the Irish countryside is comfortable, pleasant and a great way to view the beauty that is Ireland. There is also very reliable free wi-fi available onboard. Irish Rail also offers a wide range of food options, from in-seat services to dining cars. For an easy-to-read infographic about travelling from Dublin to Killarney by train, click here.
Another option to get to Killarney from Dublin airport is to use the Dublin Coach. There are a number of buses from the Dublin airport that take you to the Red Cow Luas Interchange. From there you can take one of eight buses to Killarney. It will even drop you at the Gleneagle Hotel. When you are booking your ticket, select the Dublin Airport to Killarney-Gleneagle option. The dropdown menus on the page will give you all the options to get to Killarney on one of the eight buses. This service is €20 each way.
If your flight into Dublin does not line up with the train schedule, or if you'd like to spend a day or two in Dublin, we suggest that you stay at the Jurys Inn Dublin Christchurch. Dublin is a walkable city and this hotel is a very nice property close to restaurants, local landmarks and historic sites, such as Dublin Castle, Christchurch Cathedral, Ha'penny Bridge, and a 30-minute walk to the Guinness Brewery, should you have time for such activities. There are several Hop On Hop Off bus tours available in Dublin at a reasonable price. Here is a link to just one of the available vendors for Hop On Hop Off. Another interesting way to see Dublin is from a Horse Taxi. This is a reasonably priced alternative to walking from place to place around the city. More information for getting around Dublin is available here.
When you are ready to continue your journey, the Jurys Inn is a short taxi ride to the Heuston station where you will board your train to Killarney. Once you arrive in Killarney, call the Gleneagle Hotel for a shuttle pickup. Tel: +353 064 66 36000
If your flight takes you to Shannon Airport, the best way to travel to Killarney is by bus or by renting an automobile. Again, should you choose to rent an automobile, remember that autos are driven on the left side of the road. Travelling by bus will take approximately 3.5 hours with a stop and change in Limerick. Once you get to Killarney, call the Gleneagle Hotel for a shuttle pickup. Tel: +353 064 66 36000. If your travel plans do not line up with a departing flight or arriving flight and you need a hotel for the night, we suggest Treacy's Oakwood Hotel. It is located a short 2 miles from the Shannon Airport. Rates are fairly reasonable and include breakfast.
Shannon and Dublin are the first airports in the world, outside of the Americas, to offer Full US Preclearance facilities to passengers travelling to the USA. This new upgraded service allows US bound passengers to undertake all immigration, customs and agriculture inspections at Shannon and Dublin prior to departure, making your arrival in the US easier and faster.
Your baggage is checked through to your final destination, without the need for pick up/drop off at your first entry point in the USA.
Arriving as a domestic passenger allows for a faster process though the airport. No customs or immigration at your US arrival airport.
Shorter connecting times mean you can reach your final destination earlier.
Killarney National Park Experience:
During this weeklong event, we will visit the Killarney National Park. The Park is 102.89 km2 and contains a distinctive combination of mountains, lakes, native Irish Oak woods and waterfalls under ever changing skies, which makes it an ideal location for student observations and data collection. Several sites have been selected throughout and around the park. Students will have an opportunity to experience several sites. More information about the experience will be provided.
Call for Oral Presentations – Students:
Please note that there will be no poster sessions at this event. We have issued a call for oral student presentations. Students are required to make a 10-minute oral presentation to their peers followed by a brief question and answer period. Presentations will need to fall into one of three strands which will be provided to you in our official call-for-presentations announced at a later date. Students can supplement their oral talks with a Power Point presentation should they choose.
Traveler's Insurance:
If you are interested in purchasing Traveler's Insurance, we recommend Seven Corners. Insurance is reasonably priced. Please click on this link for further information.
https://www.sevencorners.com/?a=E2B76327-E824-4433-8352-22A83D806716&z=HWMPRPM#start
Please contact the GLE Meeting Planners with questions.
Invitation Letters and Visa Requirements:
If you require an invitation letter to attend this meeting, please send your request to the GLE Meeting Planners. For information about visa requirements please click here. If you have questions about your visa requirements please contact the Department of Foreign Affairs and Trade.
Exhibitors:
Registration fee for exhibitors is $550USD and includes one meeting registration plus one six-foot draped table and two chairs. Due to space issues, we are allowing only one registration per exhibitor this year. Exhibitors may begin setting up on Sunday, 1 July during the Annual Partner Meeting and remain in place through tear down in the morning of Friday, 6 July. Exhibitor door prizes or other conference incentives may be given away at the closing networking event on Thursday, 5 July. Please contact the GLE Meeting Planners for information on where to ship your exhibitor materials.
What to Expect:
Please remember to pack appropriate clothing for the outdoor experiences at Killarney National Park (including a light rain jacket and sturdy waterproof shoes or boots). July is the warmest month in Killarney with an average temperature of 16°C (61°F). Days are long with the sun rising at 5:30 am or so each day and setting at 10:00 pm or so each evening providing 16.5 hours of daylight. However, please don't confuse daylight with sunlight. Even though July is one of Killarney's driest months, it rains frequently, on average, about 76.2 millimeters (3 inches) of rain for the month.
Liability Forms:
As part of the registration process, you are required to complete, sign, and return several liability forms. If you have registered but have not returned the forms, please do so now. Once you arrive at the event, if you have not completed the signed forms, your registration process will be significantly delayed. You will be unable to receive your meeting materials until this task is complete. The forms are available below and under the "Terms and Conditions" on the registration page. Please download and sign the forms and email GLE Meeting Planners or fax to 1-303-497-2638.
2018 Activity Release
2018 Behavior Policy Students Only
2018 Parent Media Release
2018 Adult Media Release