GLOBE Mission Mosquito
Scroll down to see past updates.
There are 3 slides to view. Click the
Play
to advance or wait for automatic slide advancement every 10 seconds.
---
---
---
New resource! "Beyond the Bite"
Designed as a reference guide to seven mosquito-borne diseases. Use it in both formal and informal education settings.
---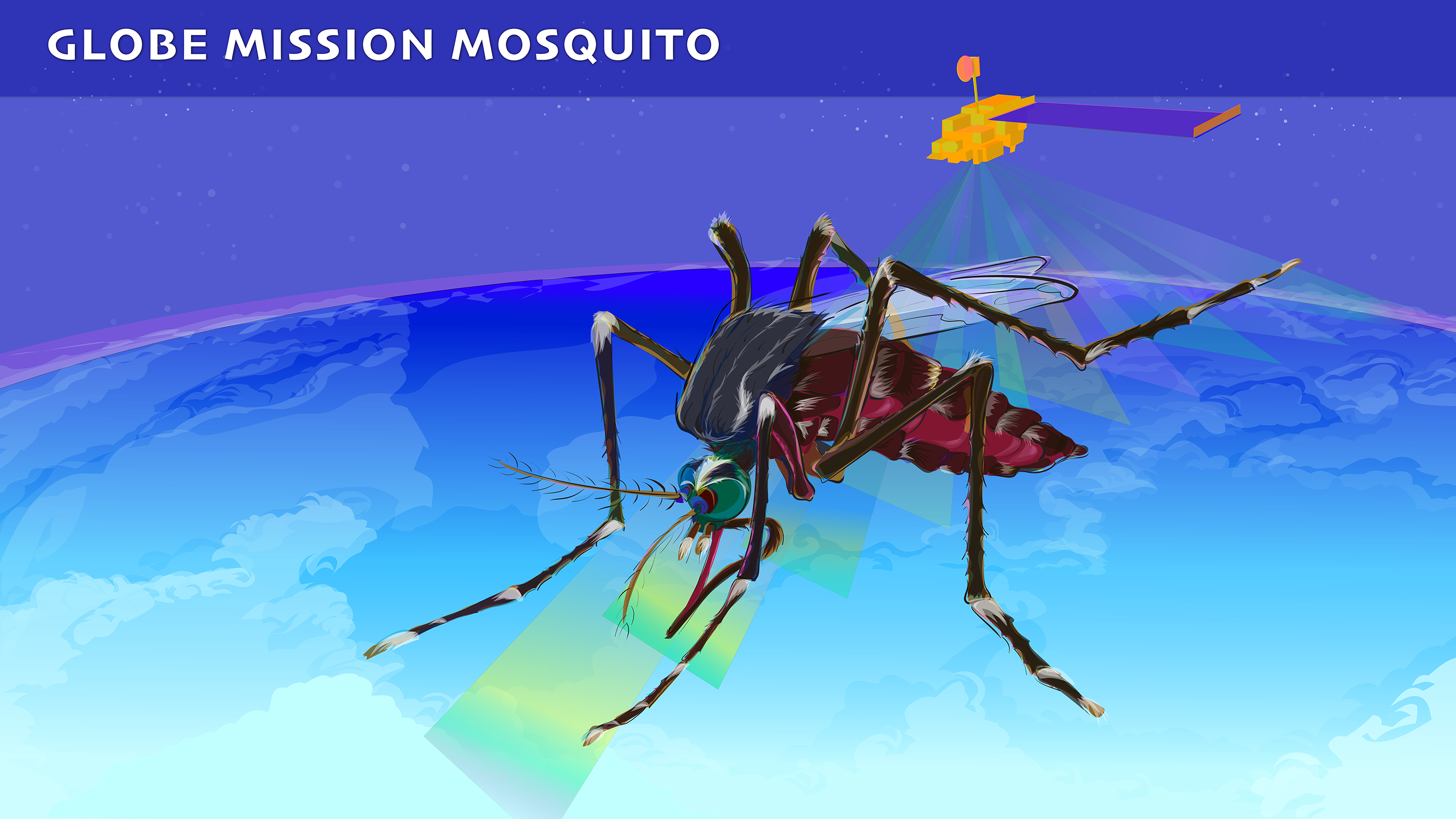 The goal of GLOBE Mission Mosquito is to create an organized citizen science community - primarily through formal education, with targeted outreach to informal education - that will conduct and report local observations using the GLOBE Observer Mosquito Habitat Mapper (GO MHM). Using the mobile app, citizen scientists identify potential breeding sites for mosquitoes, sample and count mosquito larvae, and with optional equipment, examine and photograph a specimen to identify its genus.
Campaign outreach events will connect the GLOBE Observer citizen science community with NASA scientists who want to work in partnership with citizen scientists and use GO MHM data. NASA scientists are interested in understanding changing weather patterns, extreme weather events, insect ecology and human behavior affect the range, frequency and distribution of mosquito vectors that can potentially cause disease.
The Mission Mosquito Campaign will be driven by a series of scientific questions. Three basic questions initiate the campaign:
Identify baseline (2018-2021) for range and distribution of vectors such as Aedes aegypti and Aedes albopictus.

Identify seasonality of local mosquito vectors: first sighting, last sighting, period of greatest number of observations

Quantify change in mosquito frequency and distribution at local, regional, national and global scales with specific reference to prevailing environmental parameters, such as precipitation, land cover, surface temperature, and soil moisture.
An ultimate goal of Mission Mosquito is to facilitate scientific research on mosquito vectors of disease, including research by students and scientists (citizen and professional).
Click here to receive our newsletter and notifications of upcoming webinars!
GLOBE Mission Mosquito is co-led by NASA Goddard Space Flight Center (GSFC) and the Institute for Global Environmental Strategies (IGES), working in collaboration with the GLOBE Implementation Office. This project is based upon work supported by NASA under IGES award No. NNX16AE28A: NASA Earth Science Education Collaborative (NESEC).