YLACES Announces $75,000 Commitment to Sustain GLOBE U.S. Student Research Symposia
Oct 25, 2018

Youth Learning as Citizen Environmental Scientists (YLACES), an organization committed to advancing student engagement in science, has announced funding to facilitate the convening of six regional GLOBE U.S. Regional Student Research Symposia.
The six U.S. Regional Student Research Symposia (SRS) events provide students with the opportunity to showcase results of their scientific research and to receive feedback from peers and STEM professionals.
"Students must do science to truly learn science. Through this, they develop scientific habits of mind that will serve them their entire life," Dixon Butler, Founder and President of YLACES, said. "We're thrilled to support the Student Research Symposia this coming year and applaud the work they do."
The symposia were first coordinated by Jennifer Bourgeault (GLOBE U.S. Country Coordinator), and were planned and implemented in 2016 by a team of 20 GLOBE partnerships. "When symposia participants engage in conversations about their research with professional scientists and hear about career paths, the effect is tremendous," said Bourgeault. "Students see themselves as scientists with the capability to pursue a career in the STEM fields."
In addition to student presentations, the SRS also include teacher professional development in GLOBE implementation, as well as travel support (in order to encourage students of all backgrounds to participate). Teachers carrying out GLOBE research and attending an event of this type for the first time with their students are also eligible for travel support.
The schedule for the 2019 SRS: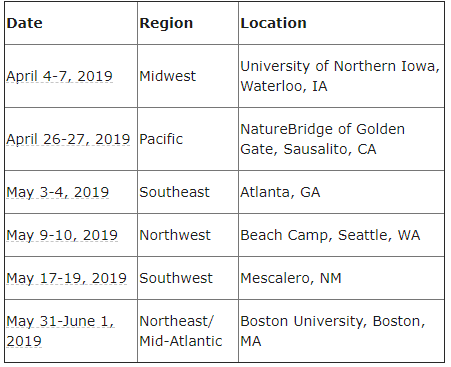 For more information on the SRS, click here.
About YLACES
YLACES seeks to develop citizens with scientific habits of mind, utilizing the environment as a learning laboratory where students conduct inquiry-based research and contribute to a better collective understanding of our changing world.
For more information on YLACES, click here.
type: globe-news
News origin: GLOBE Implementation Office
---
Comments