U.S. Regional Student Research Symposia
U.S. Regional Student Research Symposia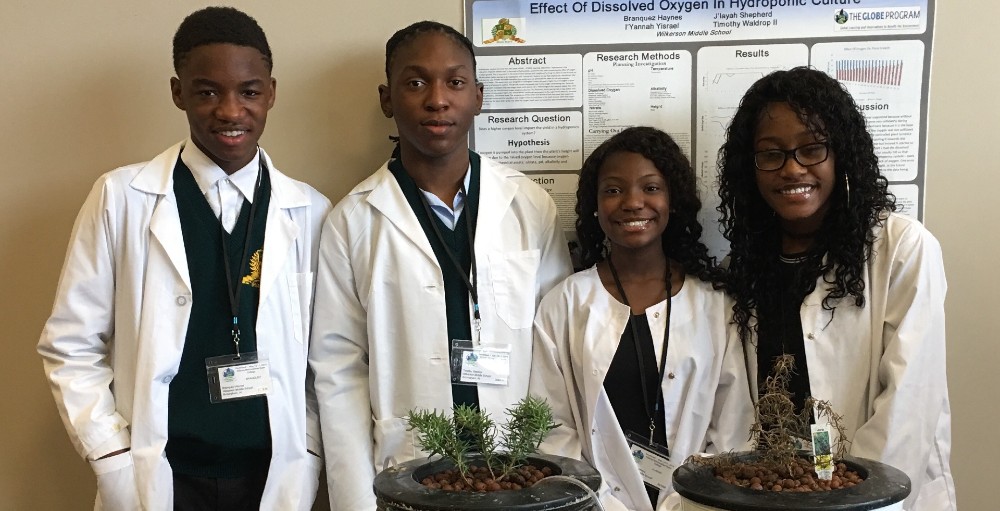 Students can show off their hard work and share the results of GLOBE research investigations at one of GLOBE's Student Research Symposia. Available for students from fifth to 12th grade, our symposia offers you the chance to discuss your project with science, technology, engineering and mathematics (STEM) professionals, share ideas and learn from your peers, and explore STEM careers. The symposia are held every spring in each of GLOBE's six regions throughout the United States.
Students can upload their GLOBE Research Reports with the "Student Research Symposium" tag at any time!
 
Jump to a Section
---
What Is a GLOBE Student Research Symposium?
 
Participating in a GLOBE Student Research Symposium is a great way to involve students in authentic research experiences while demystifying the scientific process. Additionally, past student participants reported significant gains in their confidence, skills and interest in science as a result of participation in a GLOBE symposia event.
Our symposia also provide ample opportunities for educators. Through webinars on facilitating student research, in-person professional development and face-to-face networking with scientists and educators in your region, educators can use the symposia to expand their network and bolster their own educational skills.
GLOBE alumni, International Science Network members and other national program collaborators are also warmly invited to join their regional symposia.
Learn more about the Student Research Symposia events with this flyer for for educators, administrators and students.
Tip: All GLOBE educators and students are encouraged to enter the GLOBE International Virtual Science Symposium using the science practices and research developed for the Student Research Symposia.
 
---

Resources
---

Funding and Registration
A Student Research Symposia team consists of one educator and up to four students. To register your team, you must:
Sign a media release form and complete a registration form (per participant)
Pay a $200 registration fee (per team)
Optional: Apply for travel/lodging funding support through the Funding Application
Learn more about Student Research Symposia eligibility and logistics.
 
---

Participant Testimonials
Read about what past students and educators have to say about their symposia experience:
STUDENTS

"[The scientific process] doesn't seem scary or impossible anymore."

"The [Student Research Symposia] made me realize that science is fun, and there is so much to do within the science field."

"[The Student Research Symposia] prepared me for my potential career in science and it prepared me for college"

"[The Student Research Symposia] is a friendly atmosphere and most definitely welcoming."

"It is good to learn from other students that we don't already know and just meet and talk to people of different backgrounds."


EDUCATORS

"This was a once in a lifetime experience for my students and I am very grateful for this support. They have returned to school very proud of their accomplishment of participating."

"[Student Research Symposia] encouraged the concept of sharing research information. It was beneficial for the students to understand that the symposium was not a competition, but an opportunity to share, revise, learn, and apply new ideas."

"The students realize that they can contribute to the scientific community and that their research is important. They feel part of 'Science.'"

 
---

Locations
Every year, GLOBE's Student Research Symposia are held in new locations within each region. To see where GLOBE has held previous events, click on the map below to use an interactive map detailing our symposium locations dating back to 2016.
---

Subscribe
To stay up to date about our upcoming webinars, deadline and all other topics related to GLOBE symposia, subscribe to the GLOBE mailing list.
 
---

Questions
For further questions about the Student Research Symposia, contact the U.S. GLOBE Coordination Office.
| | | |
| --- | --- | --- |
| Acknowledgement: This material is based upon work supported by NASA (Grant no. 80NSSC18K0135) and Youth Learning As Citizen Environmental Scientists. Any opinion, findings and conclusions or recommendations expressed in this material are those of the authors(s) and do not necessarily reflect the views of NASA or Youth Learning As Citizen Environmental Scientists. | |   |