Surface Temperature Field Day
AmericaView/GLOBE Surface Temperature Earth Observation Field Day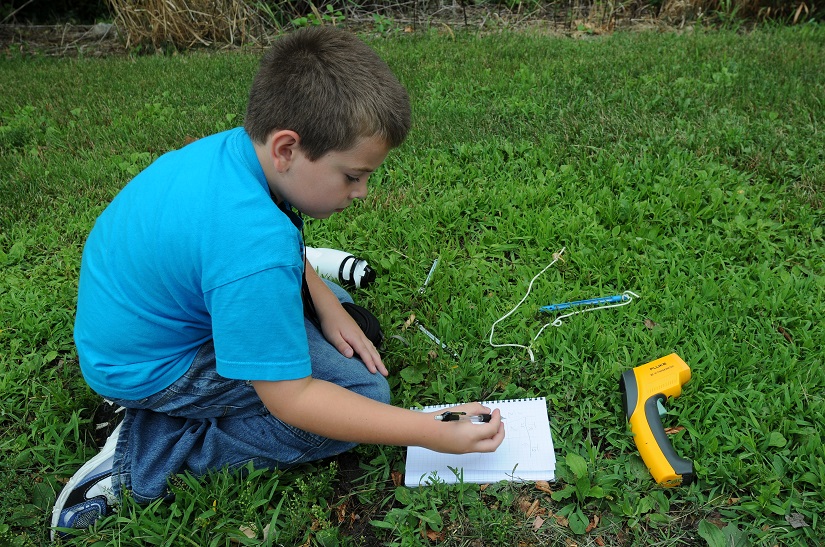 When: April 10, 2013 within one hour of solar noon
Where: Near your school, choose a grassy area and an asphalt surface (preferably newer asphalt)
Who: GLOBE trained teachers as well as teachers who have not been trained in GLOBE
Why: The Earth has warmed over the last 50 years and continues to warm. In addition, over the same time period, urban areas have expanded leading to increased warming of cities exasperating summer heat waves. Satellites can observe the temperature of cities and their surrounding areas. In situ observations are needed to validate the satellite temperatures. Student observations of surface temperature can contribute to the validation of the surface temperature.
Dr. Kevin Czajkowski from the University of Toledo will host the first spring AmericaView/GLOBE Surface Temperature Earth Observation Field Day on April 10, 2013, Earth Observation Day. On this one day event, we will gather and support a significant number of students to take surface temperature. GLOBE students can enter data on the GLOBE website. Other students may send data to AmericaView Director Rick Landenberger, Rick.Landenberger@mail.wvu.edu.
Instrumentation: For the surface temperature observations, students need to use infrared thermometers (IRT). The best IRT to use are Fluke 561. They can be purchased for in the neighborhood of $150-$200. Other, less expensive instruments can be purchased and used. Dr. Czajkowski has tested many less expensive instruments and found the Cason CA-380, $20-$40. IRTs are sold online but also at hardware stores. You may be able to borrow an IRT from a maintenance person or mechanic, etc. Please specify which instrument you used when you report your data.
Instructions: Instructions as to how to take surface temperature observations is located in the Surface Temperature Protocol.
If you are not yet a GLOBE teacher, there is information on the AmericaView website on a way to send the data to Rick Landenberger or Kevin Czajkowski. To become a GLOBE teacher, click here.