Guiding Investigative Questions
Getting Started with Your Student Research
Year 3 will have a similar, yet enhanced feel with a combination of the science and student research, the use of online tools for data analysis, and the collaboration of GLOBE campaigns.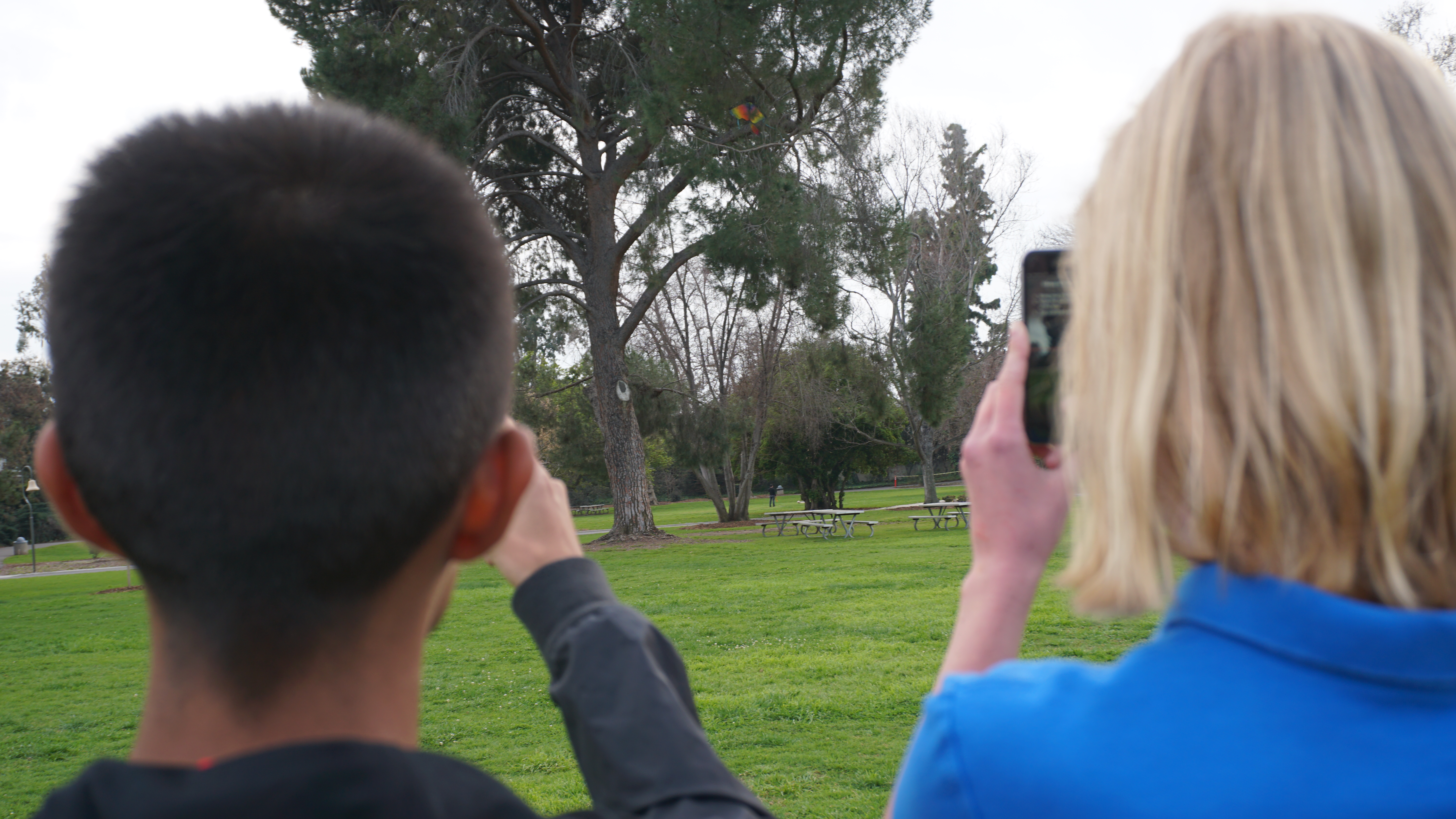 The Trees Around the GLOBE Student Research Campaign will focus on a Thematic Overarching Research Question (TORQ):
Year 3 TORQ
Why are or why aren't there trees in my local environment?
The campaign would like student participants to focus on the TORQ, in the sense that this question can be answered by researching some of the following Exploratory Research Questions through looking at existing GLOBE data and utilizing online tools that assist in data visualization, data analysis, and data mapping. In other words, we would like students to answer the TORQ by investigating the example Exploratory Research Questions below. These exploratory questions can serve as a guide to helping students in their research projects. Answering one or more questions can lead to the answering of others.
Example Exploratory Research Questions to Help Answer the TORQ
· Where are all the trees in your location?
· What is the tallest tree in your location?
· What type of trees are around me?
· What are the environmental conditions around me?
· Why aren't you seeing trees in your location?
· Why do we have the tall trees where we do around the world?
· In areas with retreating glaciers, how soon will we get trees in that area?
· What are the Succession processes that can cause trees to grow and what things interrupt those processes?
· What can historical and current time series of imagery tell you about the trees in your location?
· When do we know the trees have hit their maximum height?
· What are the constraints on tree and vegetation height? (Tree line)
· What is the elevation where we don't see trees anymore?
· Are trees in your region being impacted by climate change?
· How much water do the trees in your yard need each year?
You can access and visualize the GLOBE data via the GLOBE Visualization Tool. The campaign team members have created several "How-To" videos showcasing just how easy it is to look at the data. This data can be used for student research projects. Check out the videos on the Quick Tutorials on How to Access Data on the GLOBE Visualization (GLOBE Vis) System page.
Submitting your Student Research Project to the GLOBE 2021 International Virtual Science Symposium (IVSS):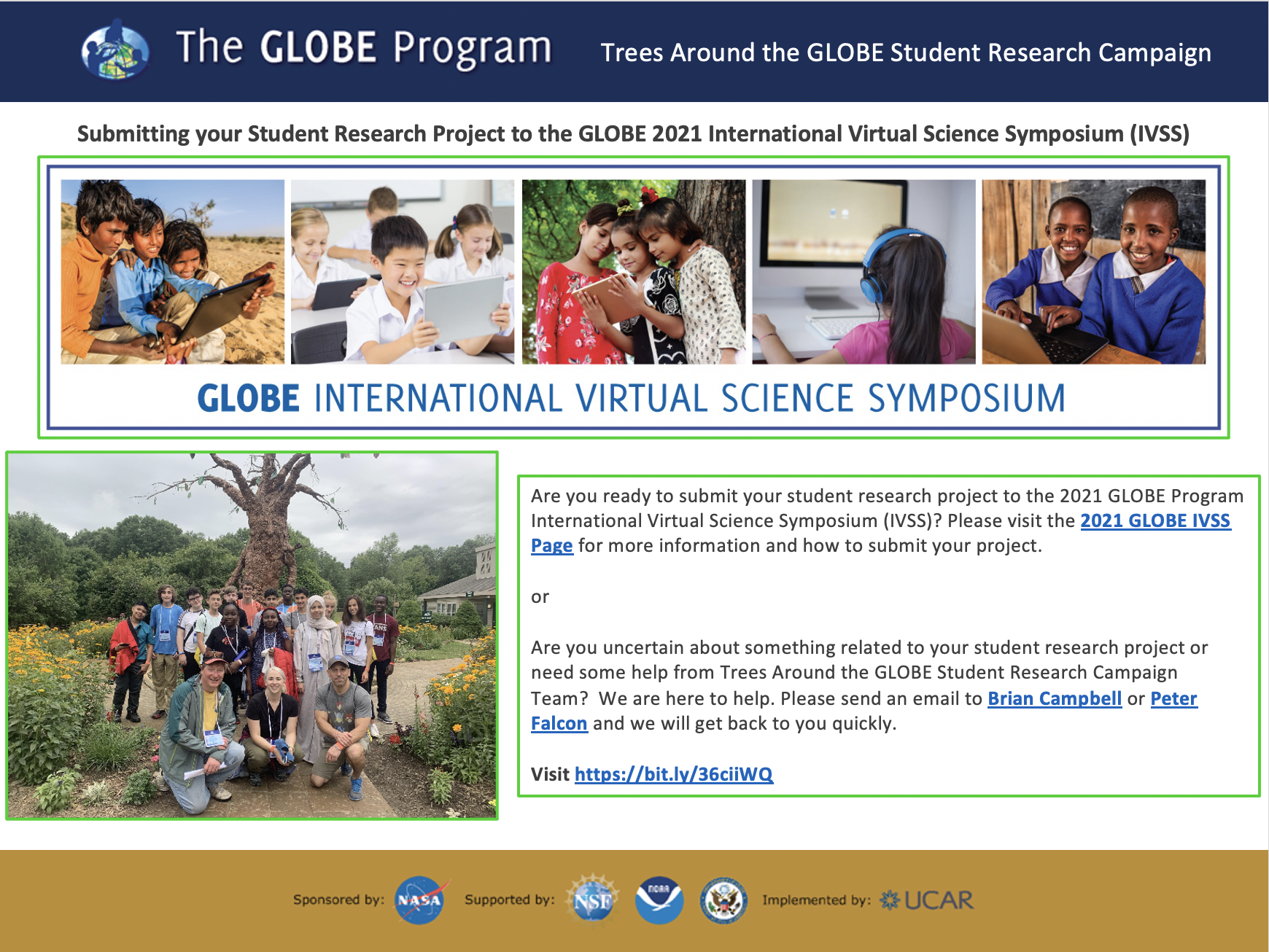 Are you ready to submit your student research project to the 2021 GLOBE Program International Virtual Science Symposium (IVSS)? Please visit the 2021 GLOBE IVSS Page for more information and how to submit your project.
or
Are you uncertain about something related to your student research project or need some help from Trees Around the GLOBE Student Research Campaign Team? We are here to help. Please send an email to Brian Campbell or Peter Falcon and we will get back to you quickly.
__________
Associated NASA Missions and Campaigns
There are several NASA missions and campaigns that provide space-based and airborne data that can align to the ground-based measurements and observations taken by GLOBE students, educators, and citizen scientists.
Ice, Cloud, and land Elevation Satellite (ICESat-2)
Global Ecosystem Dynamics Investigation (GEDI)
Landsat Satellite
ECOsystem Spaceborne Thermal Radiometer Experiment on Space Station (ECOSTRESS)
Goddard's Lidar , Hyperspectral and Thermal Imager (G-LiHT)
Arctic Boreal Vulnerability Experiment (ABoVE)
Snow Experiment (SNOWEx)
Global Precipitation Measurement Mission (GPM)