Trees Around the GLOBE Campaign
September 15, 2018 - September 15, 2021
To join the campaign, follow these steps:
Visit the Campaign Community Page, scroll down, and click the "Join Community" link above the map.
If you are new to GLOBE and have never taken any protocol measurements, you can complete the e-Trainings for the protocols you would like to use.
Start taking Biometry Tree Height measurements. Some guidelines for choosing trees to measure:

Trees measured should be at least 5ft (1.52m) tall;
Trees measured should be isolated trees or the tallest trees in a large grouping of trees

Decide which other Protocols you and your students will use to take local environmental measurements.
Start taking your protocol measurements and submit them to GLOBE through the Data Entry Page.
Connect with us by attending the campaign Webinars and engage in some discussions with other GLOBE schools, scientists, researchers, and campaign team.
Work with your students to develop potential research projects using your protocol measurement data and data from other GLOBE schools.
Collaborate with other GLOBE schools from around the world to strengthen your research experience, which could be part of the GLOBE IVSS.
Begin and/or contribute to the campaign Discussion Forum.
Present your measurements and research at a future campaign webinar.
Just have fun learning all about our planet through GLOBE!
Guiding Investigative Questions for Data Collection and Research
As you take tree height and other measurements as part of the campaign, we would like to offer several questions that you might like to answer. These Guiding Investigative Questions can help you with the "Why am I collecting this data and what does my data mean?
Where are trees growing and why are they there?
What can measuring tree height tell us about our local ecosystem?
What is the relationship between tree height and land cover?
What are the tools for measuring trees and the errors between them?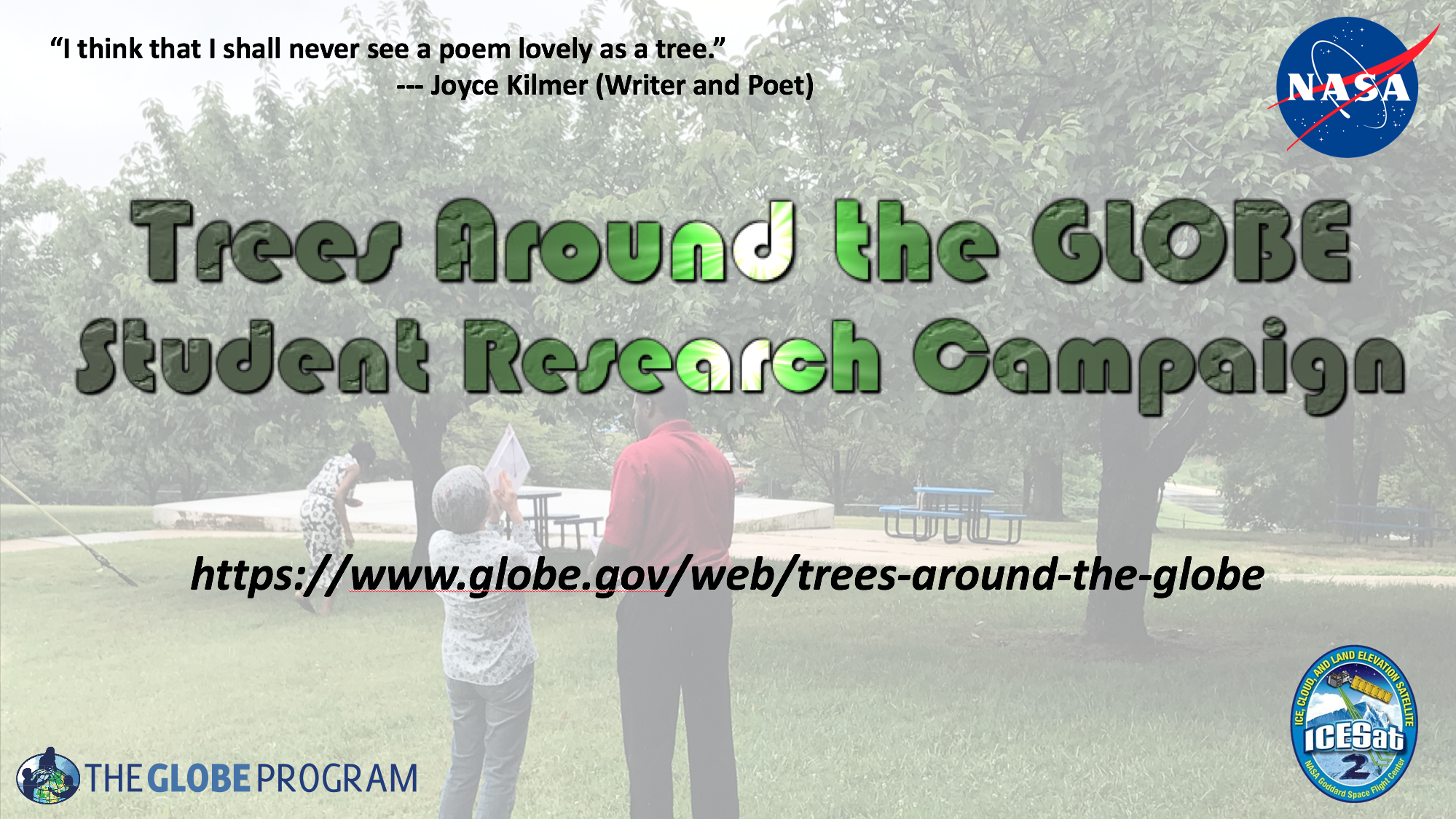 The Trees Around the GLOBE Student Research Campaign commenced on September 15, 2018 in conjunction with NASA's ICESat-2 satellite launch on the same date at 6:02am PDT. This campaign is a student research campaign focusing on tree height - one of the measurements conducted by the ICESat-2 mission. Tree height is not just a measurement - it is a gateway to understanding many things about the environment. The structure of tree canopies, the 3D arrangement of individual trees, has a huge effect on how ecosystems function and cycle through carbon, water, and nutrients.
The NASA Ice, Cloud, and land Elevation Satellite-2 (ICESat-2) launched on September 15, 2018 at 6:02am PDT from the Vandenberg Air Force Base in California, USA. The ICESat-2 satellite uses an on-board laser altimeter system to measure the height of Earth. Measurements of ice sheets, sea ice, trees, bodies of water, mountains are all part of what ICESat-2 measures.
Scientists from the ICESat-2 Mission will periodically review the tree height data collected by the GLOBE community throughout this campaign. The data will allow scientists to compare the GLOBE data to the ICESat-2 data and in potential professional research.
Students and teachers participating in this campaign are encouraged to use GLOBE protocols to measure tree height. GLOBE has several ways to measure tree height. You can find them HERE, as part of the Biometry Protocol.
In order to put the tree height measurements into context, we are recommending students to also take measurements of Land Cover Classification, Green Up / Green Down, and Carbon Cycle. This will allow for data research comparisons among several GLOBE environmental measurements.
Students are also encouraged to take location baseline protocol measurements of their measurement locations. Some examples are: Air Temperature, Surface Temperature, and Soil Temperature,
Stay tuned to this campaign web site to learn of upcoming webinars, live social media events, and blogs related to this campaign!
Related Measurement Programs
Learn about the different science platforms that are taking measurements related to tree height (tree canopy, tree distribution, forest structure) and use this information in the development of your student research projects:
Dust off those clinometers and start measuring Trees Around the GLOBE!
If you are not already a member of the GLOBE Community, please click the JOIN GLOBE link and follow the registration instructions. Once you register, you will be able to start taking GLOBE protocol measurements.
If you have any questions about the Trees Around the GLOBE Student Research Campaign, please feel free to contact Campaign Lead, Brian Campbell.