Download GrowApp
>>> for Android <<< >>> for iPhone <<<

Phenology campaign for Europe & Eurasia
What can students do?
Take pictures of 7 tree species with the brand new GrowApp smartphone app to make animation in which you see the trees changing during the seasons.
Observe greening up of vegetation in spring and leaf color change in autumn with help of GLOBE Green Up and Green Down activities.
Compare data and animations from different countries and learn about how vegetation reacts to climate change. You can start your own student research project!
When?
The campaign is on now (January 2018) with the spring budburst and greening up observations.
Spring: Start observing trees preferably just before the growing season starts. Observe how the buds grow, swell and open. Track the leaves unfolding and measure the length of selected leaves as they grow! Take a first picture of the tree without leaves, which will help you to better align next photos.
Autumn: Start observing trees before the onset of color change, when the leaves are still green
Want to join?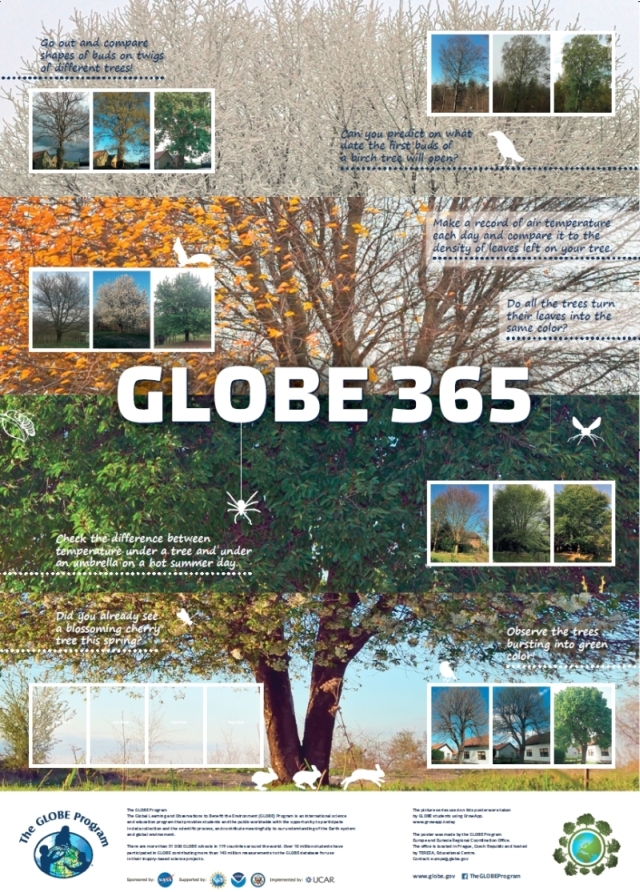 Join the community and get updates on all the activities that will be conducted during the campaign. The campaign is open to all age groups of students.
Download a flyer.
Download a presentation.
See the animations on the map at www.growapp.today
NEW: Download GLOBE365 POSTER. There is a place to stick photos of your tree as well! The poster was produced by The GLOBE Program Europe and Eurasia Region Coordination Office. If you want to receive a hardcopy of the poster, contact your GLOBE country coordinator.
Contact