Webinars
Webinars will be a vital part of the Trees Around the GLOBE Student Research Campaign. Each month we will focus on the scientific research of trees, bringing in experts from around the world to share their current research experiences with trees and the importance of the GLOBE protocol measurements to understanding our planet's trees and their roles in our Earth's ecosystem. During the webinars, we will hear from researchers in the field, including:
The National Park Service
The National Forest Service
NASA
The AEROKATS and ROVER Education Network (AREN)
Acquire - Analyze - Apply (A3)
Oregon State University
American Forests
GLOBE Schools and GLOBE Students
All the webinars can be joined at https://zoom.us/j/7578241037
Upcoming Webinars
Tuesday, November 27, 2018 @ 2:00pm EST (7:00pm UTC): Acquire - Analyze - Apply (A3): Live from the Institute for Earth Observations in Palmyra Cove, New Jersey USA. Please join us as we hear from Executive Director, John D. Moore and Director of Science, Technology, and Education, Peter Dorofy, both from the Institute for Earth Observations and members of the GLOBE Mission Earth collaborative. John and Peter will discuss what science, technology, engineering, mathematics (STEM) , Next Generation Science Standards (NGSS) , and Career Technical Education (CTE) have in common. The "ACQUIRE- ANALYZE- APPLY (A3) Project introduces teachers and students to important 21st century skillsets. As the role of Earth Observing Satellites, like ICESat-2, become more of a remote sensing tool that impacts our daily lives and decision making, GLOBE students, and beyond, can begin to experience these proficiencies. In addition to the students collecting their GLOBE protocol data as part of the Trees Around the GLOBE Campaign, other remote sensing techniques, such as drones and NASA AEROKAT kites, allow students and teachers to gather their own tree and land cover imagery and data. HoloGLOBE is an Augmented Reality tool that allows teachers and students to Acquire, Analyze, and Apply real time data satellite imagery and data in a unique and cutting-edge way. This data can then be compared to a collection of satellite data through various tools.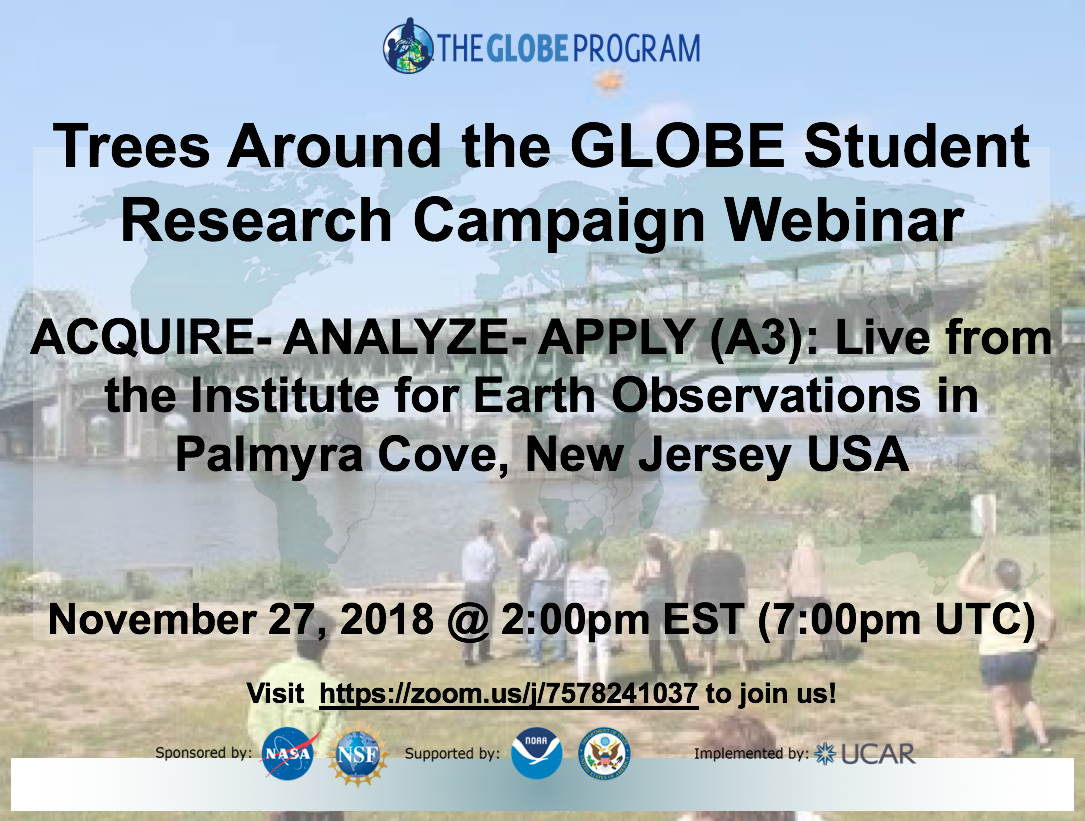 Monday, December 3, 2018 @ 8:00pm EST (1:00am UTC Tuesday, December 4, 2018): Getting Tree Science Done: Live from Shumate Middle School in Gibraltar, Michigan. Join GLOBE Teacher, Jeff Bouwman, and his students Lily, Brady, and Thomas, as they discuss just how doing GLOBE Tree Science at Shumate Middle School is helping them understand their local environment. Through measuring tree height, identifying tree species, and taking local baseline protocol measurements, the students play a vital role in helping the rest of the world understand how local environmental measurements are of global importance.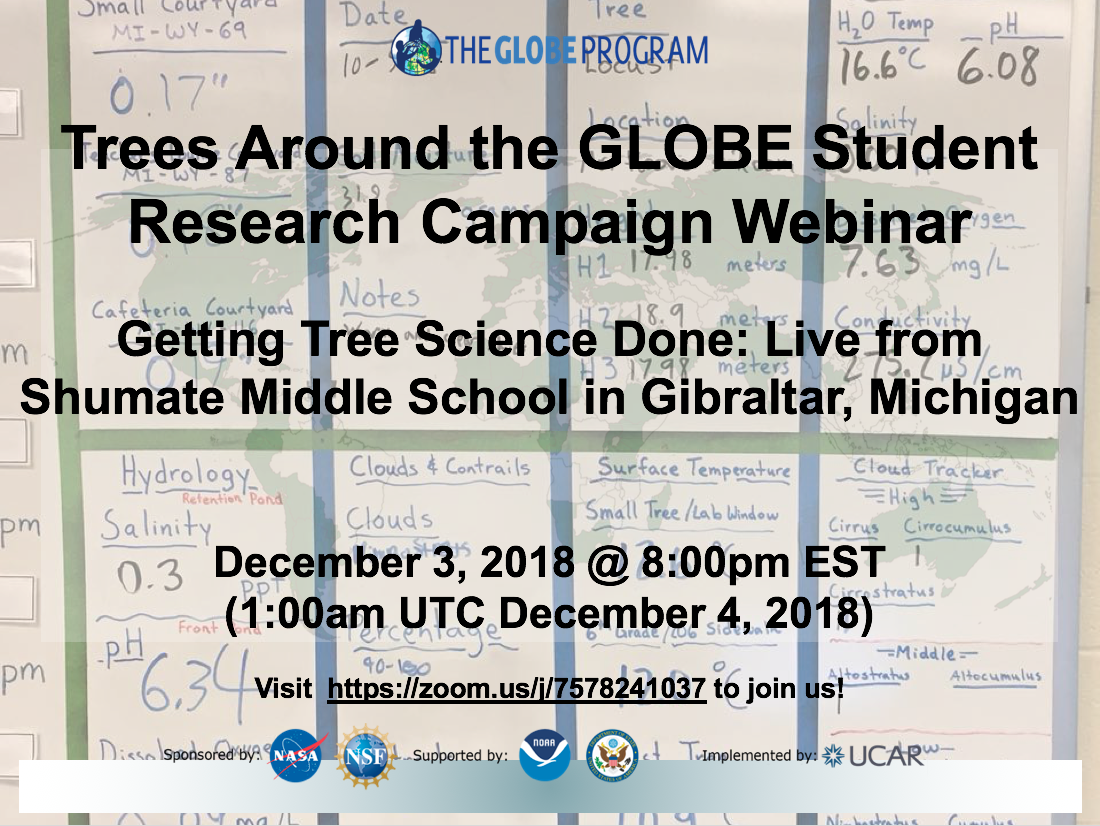 Tuesday, January 15, 2019 @ 2:00pm EST (7:00pm UTC): Investigation of Park Mlaka: Live from Croatia. Current and former students, of Marina Pavlic, from the Prirodoslovna i grafička škola in Croatia will be discussing their investigation of Park Mlaka in Mlaka County, Croatia. Students developed an overarching hypothesis of, "The trees in Park Mlaka produce enough oxygen for the inhabitants of the entire Mlaka County." The initial research took place from 2016-2017 with students that are now at university. Current students are engaging in research that extends the research on this hypothesis, using biometry, carbon cycle, and aerosol GLOBE protocols.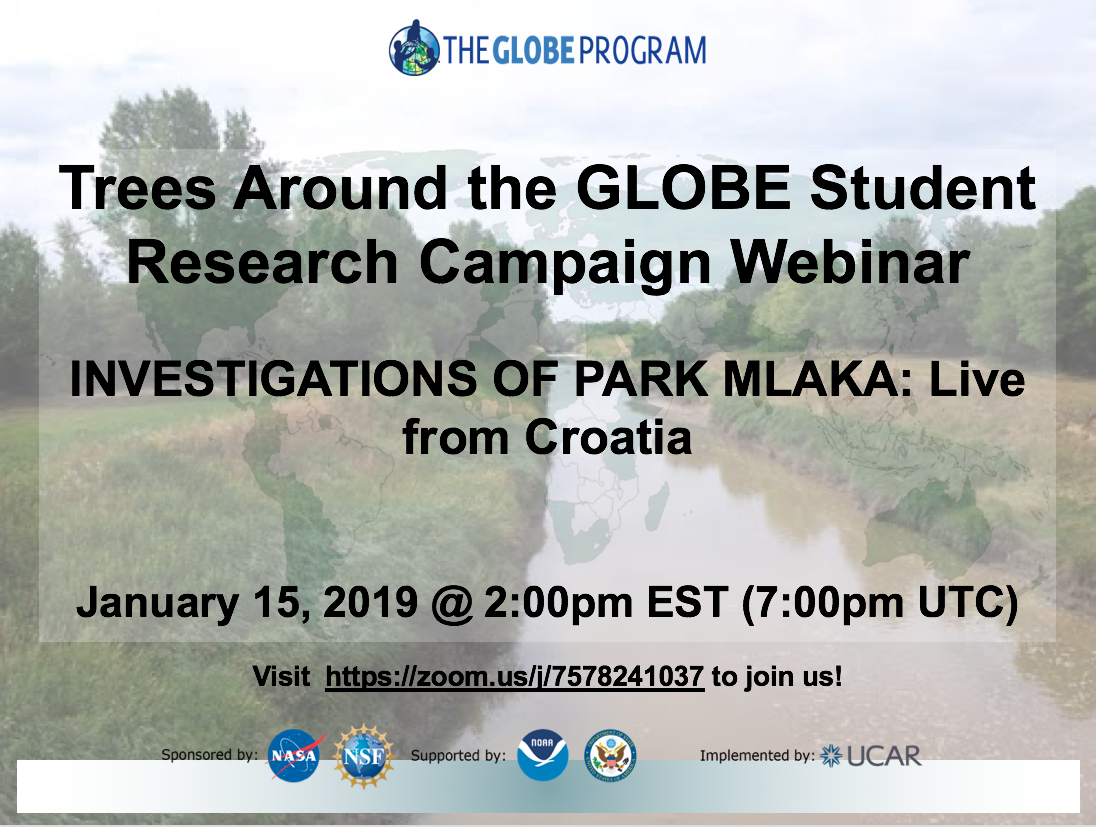 Archived Webinars
Tuesday, October 23, 2018 @ 2:00pm EDT (6:00pm UTC): Collect Earth: Live from Oregon USA with Researcher Peder Nelson. The webinar began with Brian Campbell discussing the NASA ICESat-2 Mission and why the campaign is collaborating with the mission. Following this, Peder Nelson introduced and detailed the Collect Earth online tool. Collect Earth is designed so that users can analyze high and very high-resolution satellite imagery for different purposes, including: land cover, land use, and forest mapping. Peder also discussed why we need ground-based photos, including clouds and land cover, via the GLOBE Observer Citizen Science App. A Collect Earth connection to wildlife, ie. mosquitoes was also highlighted. Prior to the webinar, it was recommended that all participants visit the Collect Earth Website.
Links to videos shown during the webinar:
Landsat Sets the Standard for Maps of World's Forests
ICESat-2 Elevates our View of Earth
ICESat-2 by the Numbers: 1,387
Tuesday, September 25, 2018 @ 2:00pm EDT (6:00pm UTC): Trees Around the GLOBE Kickoff. During this webinar, we kicked off the Trees Around the GLOBE Student Research Campaign by discussing the campaign logistics, what to expect, what GLOBE protocols to use to collect data and see how the NASA Ice, Cloud, and land Elevation Satellite-2 Mission fits into the campaign. We also highlighted the plan for the campaign's use of student collaboration, GLOBE data, and research projects. See the archived webinar below!