GLOBE Highlighted at Annual Global Climate Conference: COP27 -- Recording Now Available
Nov 18, 2022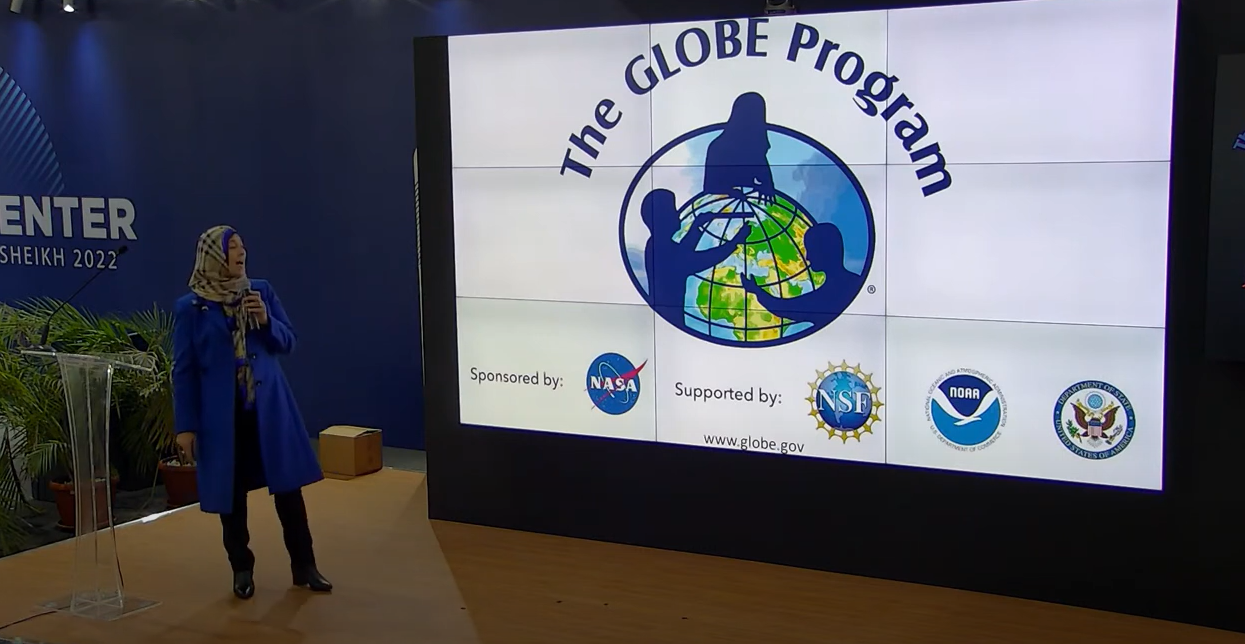 Dr. Tahani Amer presents at COP27
From 06-18 November, Egypt hosted the 27th United Nations Climate Change Conference of the Parties (COP27) in Sharm El-Sheikh, Egypt. The summit brought together countries from around the world to implement existing goals and strengthen commitments to solutions that address climate change.
In addition to other GLOBE-related presentations and/or discussions associated with the program's efforts in climate education, the NASA Hyperwall presentation: "The GLOBE Program: Engaging Youth and Citizen Scientists in Understanding our Environment" took place on 10 November. Dr. Tahani Amer, program executive, NASA Earth Science Division, hosted the presentation. (To learn more about Dr. Amer, click here.) The recording of the presentation is now available.
The view the presentation, click here.
NASA at COP27
NASA's vantage point from space provides critical information to advance understanding of our changing planet, including impacts from greenhouse gas emissions, the effects of warming including the decline of Arctic Sea ice, rising sea levels, more severe wildfires and shifting animal migration patterns.
"NASA has a unique role in the global effort to continue understanding impacts of climate change and in addressing and mitigating those impacts," said NASA
Administrator Bill Nelson. "Beyond our Earth-observing satellites in space, instruments and research which provide an unparalleled understanding of our home planet, we are committed to working with our international partners to provide free and open data to the public. NASA is excited to be part of the discussions at COP27 to help answer the most pressing questions in addressing climate change."
Throughout the conference, NASA staff and scientists presented at several events and gave presentations at the NASA Hyperwall, an interactive visual display of NASA imagery and data. Staff in attendance included:
Kate Calvin, NASA's chief scientist and senior climate advisor
Susie Perez Quinn, NASA's chief of staff
Tahani Amer, program executive, NASA Earth Science Division
Laura Lorenzoni, program scientist, ocean biology and biochemistry, NASA Earth Science Division
Mike Falkowski, program scientist, terrestrial ecology, NASA Earth Science Division
The NASA Hyperwall will was a main attraction at the U.S. Center. NASA scientists provided two presentations per day, showing how NASA's global leadership in climate science and research helps model and predict ocean health, heat waves, wildfires, hurricanes, floods, and droughts.
To learn more about COP27, and watch additional recordings, click here
News origin: GLOBE Implementation Office
---
Comments