Winter2020QuarterlyUpdate
NASA GLOBE Clouds Protocol
NASA GLOBE Clouds: How You Can Help
NASA needs your cloud observations to better understand the different types of clouds and the effects they have on Earth's climate. Clouds can change rapidly, so frequent observations from the same area over time are useful to track these changes.
The GLOBE Observer Cloud Science video below explains why observations from the ground are important to NASA.
Visit How to Participate to learn how you can help.
NASA and other space agencies have a number of satellites orbiting the Earth and collecting data about clouds and the Earth's energy budget. While these satellites give us a big picture of what's going on, they sometimes have trouble with the details.
The NASA Earth Minute video below explains why studying clouds is so important.
The image of Clouds Effects on Earth's Radiation below shows how different cloud types interact with Earth's energy budget. Some clouds have a cooling effect and some have a warming effect. The overall impact of clouds is complicated which is why the more data you submit, the better. The CERES brochure provides more detailed information about cloud effects on Earth's radiation.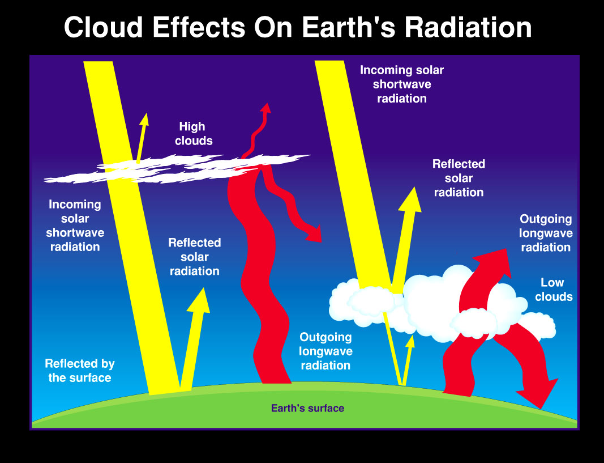 The NASA GLOBE Clouds team at NASA Langley Research Center will compare your observations with satellite data for comparison purposes and will send you an email with the results. This process allows participants to engage in authentic science experiences through NASA missions.
You are an important part of the puzzle, providing a new perspective of the clouds that satellites do not have, looking up. We are excited to receive your cloud observations!