GLOBE Students from the Anglo-Czech High School CAG in Ceske Budejovice Help Protect Local Stream
Dec 02, 2015

Since 2003, students at the Anglo-Czech High School CAG in Ceske Budejovice, Czech Republic have been taking measurements of the Dobrovodsky stream (a stream which flows near the school) at five different sites. Using GLOBE protocols, the students regularly measure the water's characteristics: temperature, transparency, conductivity, pH, nitrates (including content), alkalinity and the amount of dissolved oxygen.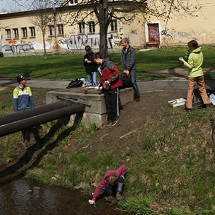 In 2011, the students focused their efforts on the impact of human activities on the water quality of the stream. That November they detected significant deterioration in the quality of the water. They discovered that the pollution was due to a damaged sewage system near to the stream.
During the spring of 2012, the students conducted research of the invertebrates and their presence at several stream sites -- what they found proved to be quite alarming. Comparisons of previous measurements showed that the section of the stream under the broken sewage system was nearly devoid of life. With this information the school notified the local municipal authorities, who penalized the company responsible for the damage. (They were required to repair the sewage system immediately.)
After this success, the students continued to study their stream using GLOBE protocols. They decided to further inspect the stream and make photo documentation as well. By studying specialized literature and internet information sources, they learned about the value of water in human settlements, as well as about the occurrence and development of flash floods.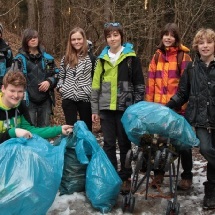 In 2013, the students designed an information campaign about the importance of the stream and about the need to keep it clean in order to prevent flood damages. Based on a public survey taken by the students in their neighborhoods they decided to raise public awareness with information boards placed along the stream. This was also accompanied by an article published in a local newspaper and a report on the school website.
At the same time, the students -- together with their school and local authorities -- organized a stream sanitation effort to clean up the Dobrovodsky stream. Using gardening tools and plastic bags, students collected waste found in and around the stream. "We wanted to research in a clean stream, so we cleaned it up," stated one student from the school.
The Anglo-Czech High School and its students are aware that taking care of the Dobrovodsky stream is a long-term project. Cleaning needs to be done regularly and the public should be better informed about environmental problems. The students plan to contact other schools from the stream vicinity and inform them about the stream's importance and involve them in its active protection.
The Anglo-Czech High School CAG in Ceske Budejovice has been a member of the GLOBE Program since 1997.
Comments