Utajärvi Upper Secondary School Presents GLOBE Data in St. Petersburg
Nov 17, 2015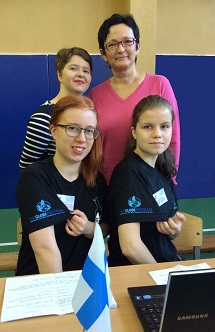 Two students and their teachers from the Utajärvi Upper Secondary School in Finland traveled to St. Petersburg, Russia in April 2015 to participate in the International Forum of Youth Social Projects, titled: "Just Act." The teachers, (both GLOBE teachers) Mrs. Liisa Virta and Mrs. Aila Raappana, with their students, Jenna Rimpeläinen and Olga Nissinen, presented about the GLOBE program and how their school observes weather.
In their presentation, they emphasized the climate history of Utajärvi as taken by their GLOBE weather station. The school has been analyzing temperature, snow depth and precipitation data taken between the years 2001 and 2013.
Participants of the forum were interested in knowing more about the topic and asked the Utajärvi representatives many questions concerning climate change.
While in Russia, the Utajärvi team stayed with local families. "We were just overwhelmed by their hospitality," said GLOBE teacher Liisa Virta.
She continued: "We got a chance to celebrate Orthodox Easter with the families. Easter traditions included painting and decorating eggs and later blessing them at church. We also spent time walking around the city and visiting world famous monuments and museums from the era of the Russian czars."
This forum was a part of UNESCO's 70th anniversary celebration. UNESCO promotes peace and respect for human rights by encouraging international collaboration. During the forum, participants (including the Utajärvi team) were placed into small groups to discuss human rights topics. Virta added: "The four-day-trip taught us to respect other cultures and to look for compromises."
"We enjoyed our time in Russia. We hope that we get a chance to visit there again in the future," she concluded.
Just Act was hosted by School No. 639 in St. Petersburg. Irina Krilova is the school's headmistress.
Comments