For Country Coordinators and Trainers
For Country Coordinators and Trainers
Regional Coordination Offices, Country Coordinators, and trainers take a leading role in the GLOBE Zika Education and Prevention project. With the help of in-country trainers, GLOBE hopes to train hundreds of thousands of citizen scientists in the GLOBE Mosquito Protocol and limit the spread of Zika virus.
The "Train the Trainer" Model
This project relies on a basic Mosquito Protocol Train the Trainer Model: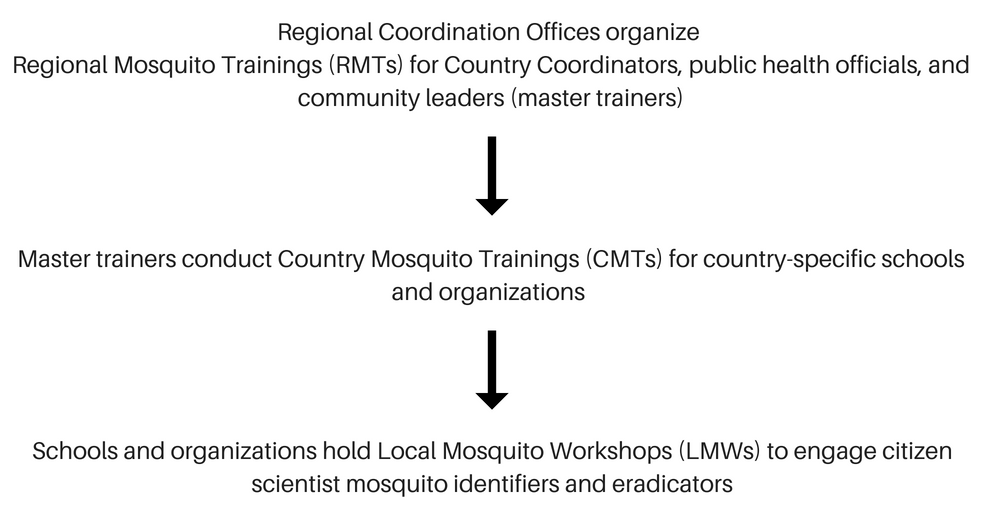 GLOBE Training Workshops
GLOBE is grateful to have a worldwide network of partners and supporters to help facilitate the Regional Mosquito Trainings, Country Mosquito Trainings, and Local Mosquito Workshops that are at the core of this project. If you will be creating a workshop in your area, please visit the Creating Workshops section of this website, where you will find videos and other resources to help you set up your mosquito training.
Country Coordinator and Trainer Manual
This manual provides the planning and tracking forms to monitor the Country Mosquito Trainings (CMTs) at the country-level and the Local Mosquito Workshops (LMWs) at the local level within countries
See the Country Coordinator and Trainer Manual in Spanish here.
Track CMT and LMW Progress (There are two versions):
- "GLOBE Workshop Tracker" (this is general for all countries that are not administering the survey)
GLOBE Documents and Resources
See the Documents page for more project resources.
Contact mosquitoes@globe.gov to request certificates of successful completion for training participants.
Pre- and Post-Workshop Survey Resources
Click here to find resources for Pre- and Post-Workshop Survey Administration.