Trees Around the GLOBE Community
Welcome to the Trees Around the GLOBE Campaign community, where you can share ideas, upload documents and post questions.
If you join this community as a member, you will receive an email from other members who post to the forum, and your posts will be sent to everyone, so join up and start posting!
Trees Challenge 2020: Make Every Tree Count
April 1, 2020 to April 30, 2020
To celebrate the 50th anniversary of Earth Day and the 25th anniversary of the GLOBE Program, GLOBE Observer is hosting a month-long citizen science challenge in April 2020. Volunteers are invited to measure the height of as many different trees as possible throughout the month using the Trees tool in the GLOBE Observer app. The individuals, schools, and registered teams that measure the most trees will be recognized as top observers in the challenge. Click on the image below to learn more and become part of Trees Challenge 2020: Make Every Tree Count!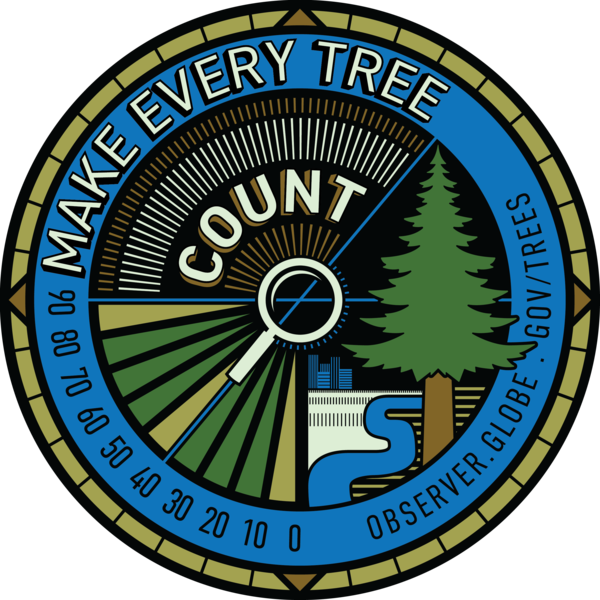 Guiding Investigative Questions for Data Collection and Research
As you take tree height and other measurements as part of the campaign, we would like to offer several questions that you might like to answer. These Guiding Investigative Questions can help you with the "Why am I collecting this data and what does my data mean?
•Where are trees growing and why are they there?
•What can measuring tree height tell us about our local ecosystem?
•What is the relationship between tree height and land cover?
•What are the tools for measuring trees and the errors between them?
•What kinds of trees are growing in my location?
•Are the trees in my area native or invasive? What are the barriers for comparing GLOBE tree height data to the
ICESat-2 tree height data?
•What is the distribution of tree height measurements from around the world each month?
•What are the errors measuring tree heights using hand-held clinometers versus using the NASA GLOBE Observer
Trees Tool?
•How much water do the trees in my area require per month?
We are constantly updating the resource list below. These resources are external programs that can aide in the development of student research projects associated with the Trees Around the GLOBE Student Research Campaign.
Simulated ICESat-2 Data on Open Altimetry: Here you can view simulated ICESat-2 data. OpenAltimetry is a cyberinfrastructure platform for ICESat and ICESat-2 data discovery, access, and visualization. This platform will leverage and build upon the service-oriented architecture behind the OpenTopography system that already provides integrated access and processing capabilities for high resolution topography data. The proposed work will also leverage development performed as part of the NASA Lidar Access System project, a collaboration between UNAVCO, OpenTopography, the Goddard Space Flight Center, and the National Snow and Ice Data Center (NSIDC) that prototyped an ICESat data discovery interface and improved GLAS data products.
Open Topography: OpenTopography facilitates community access to high-resolution, Earth science-oriented, topography data, and related tools and resources.
Forest Observation System: The Forest Observation System is an international cooperation to establish a global in-situ forest biomass database to support earth observation and to encourage investment in relevant field-based observations and science. The Forest Observation System provides well curated biomass plot data in a unified format, that is aggregated from tree level data consistently across different networks.
Collect Earth: Collect Earth is a tool that enables data collection through Google Earth. In conjunction with Google Earth, Bing Maps and Google Earth Engine, users can analyze high and very high resolution satellite imagery for a wide variety of purposes.
GrowApp: GrowApp allows you to make animations of trees, gardens and landscapes by taking pictures with your smartphone. The app directly transforms these pictures in a time lapse movie that shows changes over the seasons and even over the years. While having fun making an animation of your backyard, you also help scientists better understand the impact of climate change on the environment.

A Tree's Life Tree-Banding Research Program: A Tree's Life is a citizen science study of backyard tree growth in response to global climate change. Your tree can tell us a lot about forests of the future.

GIS Geography: Forests cover about 30% of the Earth's surface. Over 1 billion people depend on these forests for their survival because it's their pharmacy, their fuel and food for their animals.

Forests keep rivers clean. They prevent soil erosion. They prevent landslides and avalanches. They are carbon sinks because they absorb over one-fifth of carbon emissions caused by fossil fuels.

NASA Earthdata:

The Earth Observing System Data and Information System (EOSDIS) is a key core capability in

NASA's Earth Science Data Systems (ESDS) Program

. It provides end-to-end capabilities for managing NASA's Earth science data from various sources – satellites, aircraft, field measurements, and various other programs.

NASA Worldview:

NASA's

EOSDIS

provides the capability to interactively browse over 600 global, full-resolution satellite imagery layers and then download the underlying data. Many of the available imagery layers are updated within three hours of observation, essentially showing the entire Earth as it looks "right now".
CAMPAIGN TEAM