From glaciers to invertebrates: who knows where the waters of the GLOBE may take you?
Aug 08, 2018
From glaciers to invertebrates: who knows where the waters of the GLOBE may take you?
In the spring of 2017, the GLOBE Program—an international science education initiative funded by NASA and supported by The National Oceanographic and Atmospheric Administration (NOAA), the National Science Foundation (NSF) and the US Department of State—sponsored six regional Student Research Symposia where teachers and students from schools across the country shared the results of their field investigations using GLOBE Program data collection protocols.
In this series of feature stories, we profile some of the teacher/student teams who presented at these symposia.
______________________________________________________________________________
The headwaters that flow from the glaciers high in the Rocky Mountains to the west of Lafayette, Colorado are some of the purest waters in the world. But as it channels through the city of Boulder, the water loses its clarity, picking up human waste and trash—and making it a laboratory for Bill Meyers and his GLOBE students at Alexander Dawson School.
Bill has taught several GLOBE protocols over the last few years, starting with the Green Up Green Down protocol that monitors leaves changing color in the fall and budding in the spring. "It was a great way for me to introduce data collection and observation," he said. "And it's also a good climate indicator, and a great way to bring up that subject." When he taught weather, Bill used NASA's cloud identification protocols and GPS satellite videos and materials. But it was the introduction of the soil and water chemistry protocols that motivated two of his students to prepare projects that took them to three science fairs, including the regional science symposium held in Denver spring 2017.
"We're sampling Boulder Creek. The water's been through Boulder and a water treatment plant by the time it gets to us, plus there's a lot of construction and development going on in this area," Bill explained. "Monitoring water for quality is a big thing. Water quality data is used for the GLOBE project but we also send data to the division of wildlife in Colorado for analysis there."
Bill has taught physical, Earth, and biological science, as well as algebra, in his 27 years at the Dawson School, and engaged his students in GLOBE for several years, with 60 or more involved in GLOBE. "GLOBE has been a great way for me to introduce data collection and observation," he said, "especially for students with disabilities, ADD, ADHD…we have a pretty good population of students like that." However, Bill finds universal value for all students in hands-on science, real-world data collection, authentic questioning, and problem-solving—before becoming a teacher, he was an environmental toxicologist.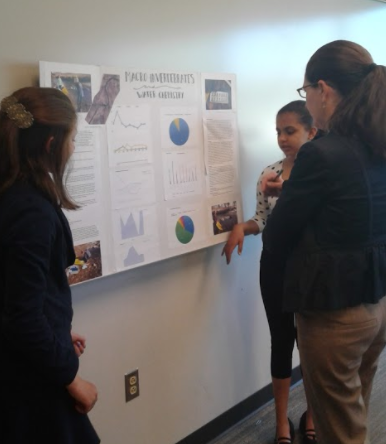 When his students focused deeply on the water quality of Boulder Creek, "they became interested in the health of invertebrates living in the stream," Bill explained. "They classified them in three different groups, macro, micro, and an intermediate group, which can be counted to determine pollution sensitivity." By looking at the data, he said, the students could get a good measure of the relative tolerance of each group to the water pollution. "They measured water chemistry starting in October and through March, twice a month and sometimes more because they wanted to see if there was a change seasonally." Yes…the students continued collecting data throughout the snowy Colorado winter.
Bill explained that, as their teacher, he coached students through their project by helping them shape their project—suggesting realistic questions and size parameters, how much data to collect and for how long, and how to find comparative data sets from other schools. He arranged for a minibus to drive them down to the creek on data collection days. They scheduled regular meetings to analyze their data and begin putting them into spreadsheets and getting their presentations organized.
Taking their project on the road
Two of Bill's students, Lindsey and Breck, represented Dawson School with the water quality research project at the Denver GLOBE Student Research Symposium and at additional science symposia through the GLOBE International Virtual Science Symposia and in person, at the Annual Meeting in New Haven, Connecticut. For the Virtual Symposia, "The GLOBE projects were due on the website at the end of March where ten GLOBE scientists reviewed and graded the submissions. The top graded scorers were put into a group from which two U.S. projects were selected at random to receive $1,000 to fund their trip to the Annual Meeting in New Haven. Our school got pulled out of the pack, so our girls split $1,000…their parents were so excited. The school paid for my costs as a part of professional development."
The experience of showing their work at these symposia is both exhilarating and exhausting, said Bill. "They put up their boards and have an open time in the evening when scientists and teachers and students can wander around and talk about their work and ask others about their work. The kids really enjoyed it, but one of the comments was they were exhausted by the end of the evening, giving the same presentation 25 times," he said.
"But it's a really nice thing," he continued. "People would ask questions and give feedback on what they did right or what they did wrong. They had conversations with all different kinds of people. All I did was make sure that they understood their data. I might ask my students a few questions like, why did you do that?, so they would remember. Those kids really owned it. That was a comment I got from a lot of adults. The girls could talk about their data."
"One thing I told them," Bill said, "was if they didn't know the answer, don't fake it. Find out the answer. Ask questions."
Lindsey looks forward
Lindsey, one of the two eighth graders who went on Bill Meyer's GLOBE journey from the beginning with the Green Up Green Down through to the Denver GLOBE regional symposium, has now moved on, but still hears the siren call of science.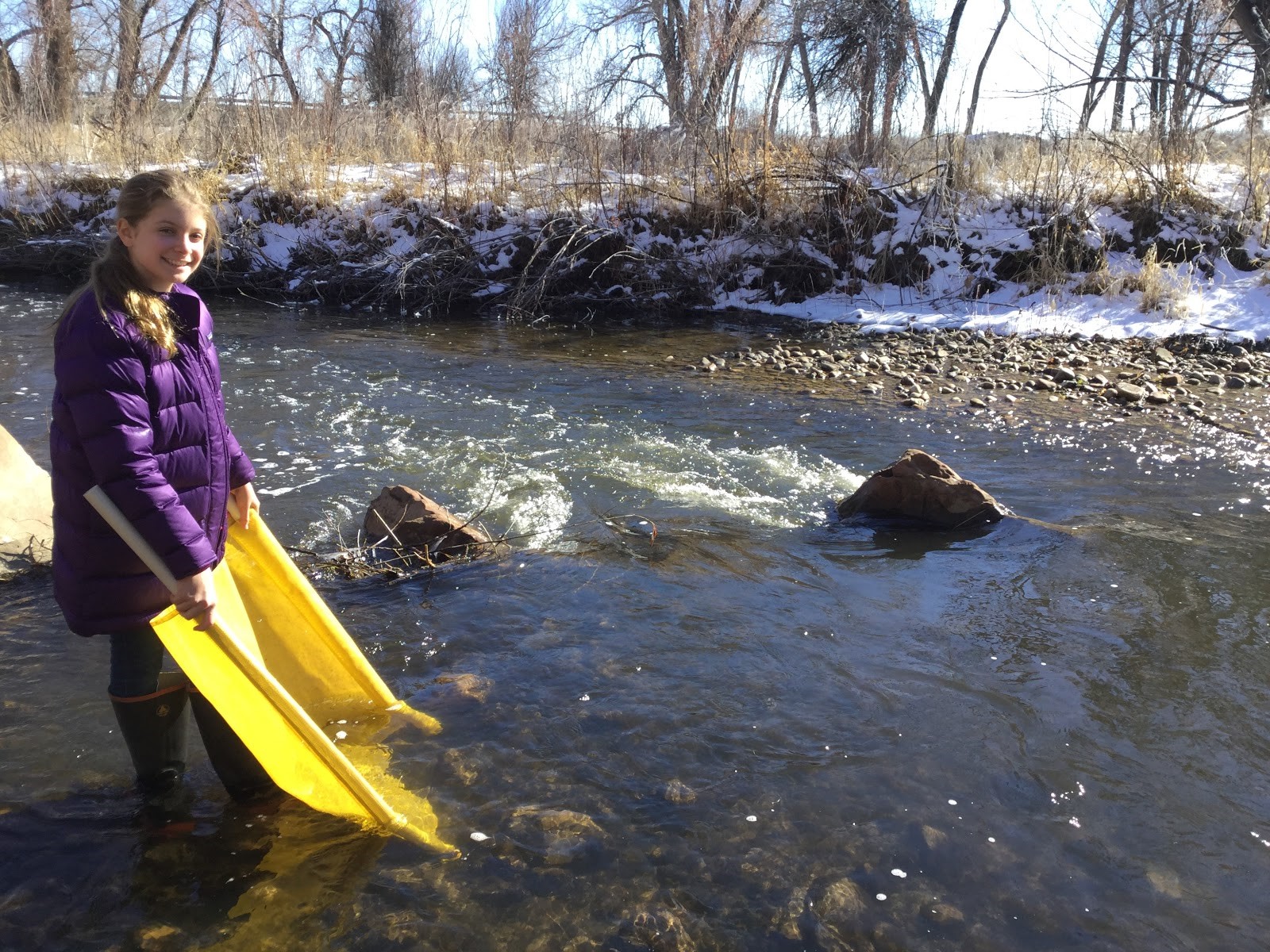 "Mr. Meyers taught us about the leaves changing colors and also had a club called River Watch and he incorporated GLOBE into that," Lindsey said. "Then we heard about the symposium and we used the stream near our school, Boulder Creek, to study the health of the stream and the sensitivity of macroinvertebrates to pollution. We found that mostly category one invertebrates are sensitive to pollution and that group three are more pollution tolerant."
"Ever since elementary school I felt connected with the science teacher, especially in biology and astronomy," she said. She's taking biology this year and, having visited Yale last year for one of the three science fairs she attended, has a strong interest in Yale as a post-secondary school choice to study neurology and marine biology, "something with animals or veterinary science. It's beautiful. I would love to go there."
A more immediate goal, though: Her new school, The Holy Family School, does not yet have a GLOBE program. "My biology teacher is working on getting GLOBE here. I'm interested in helping with that."
Just as Lindsey has moved on to a new school, Bill Meyers in June 2017 concluded 27 years of teaching at Alexander Dawson School. But his legacy is far from ephemeral, now that thousands of questioning minds now understand how billions of gallons of pristine glacial waters become sullied by human contact, how and why leaf color change in fall and leaf budding in spring signal climate cycles, and other answers that satisfy our curiosity about the natural world we share.
- C. Ralph Adler
The GLOBE Program is gearing up for its 2018 Science Research Symposia funded by NASA Grant No. 80NSC18K0135. For information on dates, locations, and application procedures, visit https://www.globe.gov/web/united-states-of-america/home/student-research-symposia/2018-symposia.
The 2017 Regional Science Symposia were funded by National Science Foundation Grant No. 1546713. Any opinion, findings, and conclusions or recommendations expressed in this material are those of the authors(s) and do not necessarily reflect the views of the National Science Foundation.
type: globe-news
News origin: United States of America
---
Comments