Training Strengthens Collaborative Bonds between GLOBE and Peace Corps
Aug 14, 2017

A GLOBE training conducted in April (24-28) at the "Addressing Environmental Shocks and Stresses Workshop" at Peace Corps Headquarters in Washington, D.C., focused on strengthening the already strong collaborative bonds between the two programs.
A number of focused and dedicated people attended the workshop, including country directors, training specialists and program managers from countries in the Africa Region (Benin, Botswana, Burkina Faso, Cameroon, Kenya, Madagascar, Senegal, Tanzania, The Gambia, Togo, Uganda, and Zambia), the Asia and Pacific Region (Cambodia, Fiji, Nepal, and Philippines), the Latin America and Caribbean Region (Guatemala, Guyana, Jamaica, Mexico, Nicaragua, Paraguay, and Peru).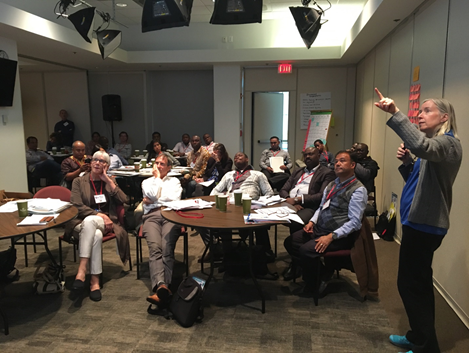 There to provide training, information, support, and examples of collaboration in action, were Lin Chambers (the GLOBE Program Manager at NASA Headquarters), Lyn Wigbels (International Coordinator for the GLOBE Implementation Office/GIO), Kristin Wegner (GIO Project Manager and Returned Peace Corps Volunteer), Todd Toth (GLOBE Training Coordinator at NASA Goddard Space Flight Center), Irene Farrow (GLOBE Returned Peace Corps Response Volunteer), and Fabiola Espinoza Cordova (Peace Corps Response Coordinator and GLOBE Specialist, Ministry of Environment, Peru).
GLOBE and Peace Corps have long shared a common commitment to the environment, education, youth development and empowerment, capacity building, and cultural understanding. Since 1995, GLOBE and Peace Corps have informally collaborated on activities in countries in Africa, Asia and Pacific, Europe and Eurasia, Latin America and Caribbean, and the Near East. (To read more about these collaborative endeavors, click here.)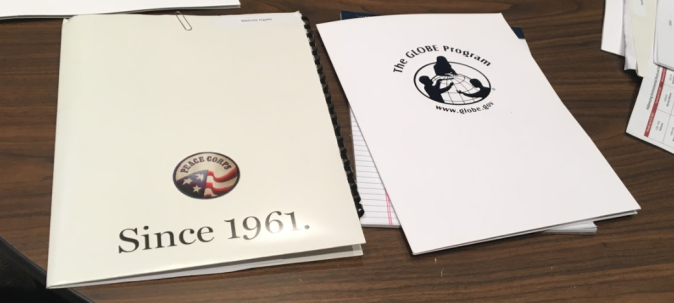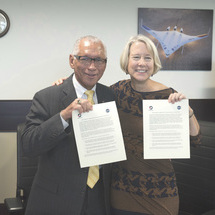 A Letter of Intent (LOI) was signed in October 2016 by NASA Administrator Charles Bolden and Peace Corps Director Carrie Hessler-Radelet. The goal of the LOI is to make GLOBE resources accessible to Peace Corps volunteers, connect GLOBE Country Coordinators with Peace Corps staff, and highlight projects that leverage GLOBE. The LOI establishes a global strategic partnership to strengthen collaboration between GLOBE and the Peace Corps in order to better achieve the participants' respective programmatic objectives.
"Given the broad international scope of the GLOBE Program," Lin Chambers said, "NASA is very pleased to partner with Peace Corps in order to further share the many useful resources that GLOBE has to offer."
Working to put the LOI into action for both programs, the April workshop began with an overview of The GLOBE Program, presented by Lin Chambers, the GLOBE Program Manager at NASA Headquarters. Then Lyn Wigbels, GIO's International Coordinator, discussed GLOBE partnerships (explaining how countries join GLOBE, describing the role of Country Coordinators, and providing an overview of the LOI).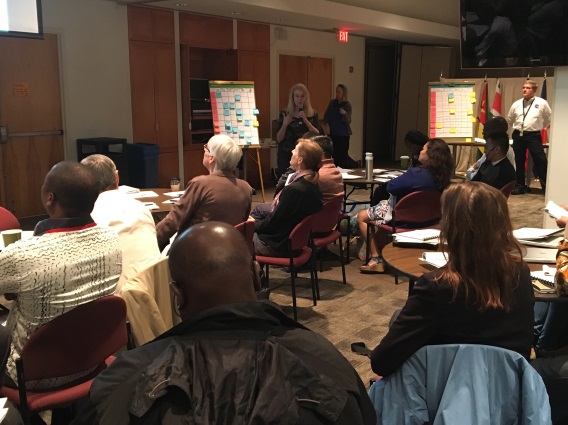 Kristin Wegner, a Returned Peace Corps Volunteer (RPCV) who now serves as a Project Manager for the GIO, then took center stage to discuss the implementation of GLOBE from a Peace Corps perspective (providing information on the GLOBE/Peace Corps Alignment Document, USAID Small Project Assistance grants, and English language learning resources).
Peace Corps has supported GLOBE through the Peace Corps Response program where three Peace Corps Volunteers (PCVs) have supported the Ministry of Environment's implementation of GLOBE in Peru. (For example, PCVs supported a train-the-trainer workshop and overall GLOBE expansion in Peru.)
Irene Farrow and Fabiola Espinoza Cordova also shared a case study of how PCVs can work with counterparts, conduct training, and support GLOBE leadership in the country. (Irene, a Returned PCV, has been hard at work for GLOBE for years; you can read more about her work with bio-indicator species in Arequipa, Peru by clicking here.) The team then provided an overview of the GLOBE investigation areas and conducted trainings on atmosphere and hydrosphere (including the Mosquito protocol), and the Data Entry app.
Kristin also shared connections with local, regional, and global researchers and campaigns, including the El Niño-Southern Oscillation (ENSO) campaign, the Kilimanjaro and Lake Victoria Learning Expeditions, and the International Virtual Science Symposium.
The GLOBE team returned the following day for the Peace Corp implementation session, and provided information on the status of GLOBE activities in Peace Corps countries.
"This was the first activity conducted under the NASA/Peace Corps Letter of Intent," Lyn Wigbels said, "which is intended to strengthen the collaboration between Peace Corps and GLOBE, building on more than 20 years of cooperative activities in countries around the world.
We were delighted to work with Peace Corps to design the GLOBE session to meet its objectives for the conference and to have the opportunity to meet and present GLOBE to so many key Peace Corps staff. We believe the presentations, training and discussions at the conference and the follow-up communications will help better achieve our respective programmatic objectives."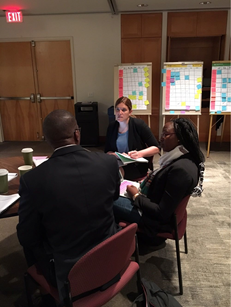 "This workshop was a wonderful way to connect two programs with similar missions," Kristin Wegner added. "When I was a Peace Corps Volunteer (Dominican Republic 2004-2007), I led projects related to water quality and service learning with high school students. The students wanted to be able to test the water themselves, but we didn't have the financial resources or standardized protocols, so we had to pay private labs to do the water quality testing.
"I wish I had known about GLOBE when I was a Peace Corps Volunteer! It was wonderful to share the GLOBE resources, like protocols, apps, and learning activities, with countries working on environmental education, food security, and mosquito education. There was a lot of enthusiasm for bringing GLOBE back to their Peace Corps Volunteers," Kristin said.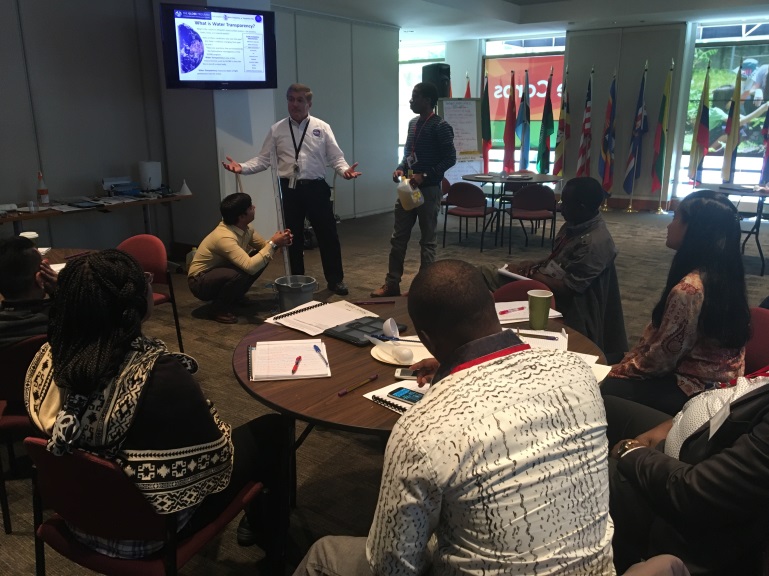 Comments