How to Participate
GLOBE students can choose to participate in data collection for the ENSO Student Research Campaign by choosing to collect data for at least two of the six protocols in the ENSO Campaign "Suite of Protocols." Become part of the ENSO Student Research Campaign community by registering as a Member today (see "Members page: link below). As a member, you will get updates when new blogs are posted, and so that we can recognize your contributions to data collection. Log in to your GLOBE account to ensure you see the "join-community" link when you go to the Members page.
We are currently in the ENSO Student Research Campaign Phase II - 2016-2017!
To officially become a Member of the ENSO Student Research Campaign, you must:
Take measurements and submit data, to GLOBE, in at least 2 of the 6 campaign protocols (listed below) for at least 21 days per seasons (see "Season Chart" below) AND
Register as a Member of the ENSO Student Research Campaign (see above)
As an added benefit, the NASA GLOBE team will award digital badges to the profile pages of members and schools that actively participate in webinars and data collection.
Webinar badges for Phase II:
| | | | | |
| --- | --- | --- | --- | --- |
| Webinars Attended from September 21 2016 to June 6 2017: | At least 1 | 2, 3 or 4 | 5, 6 or 7 | 8, 9, or 10 |
| Badge Received: | | | | |
Other badges:
| | | |
| --- | --- | --- |
| Attend 25% of webinars and collect data from at least two of the protocols. | Contribute a spotlight slide for a webinar or to the H2yOu Project | Present at a webinar |
| | | |
You must be a member of GLOBE to receive the badges, so if you are not, make sure you join today. We are currently in the process of adding badges to the profiles of participants from Phase I, and it may take a week or two to get to everyone, but if you feel that we have made an error or if you have any questions in the meantime, please feel free to contact the ENSO Website Lead.
Click the image below to see all about the campaign and how to participate.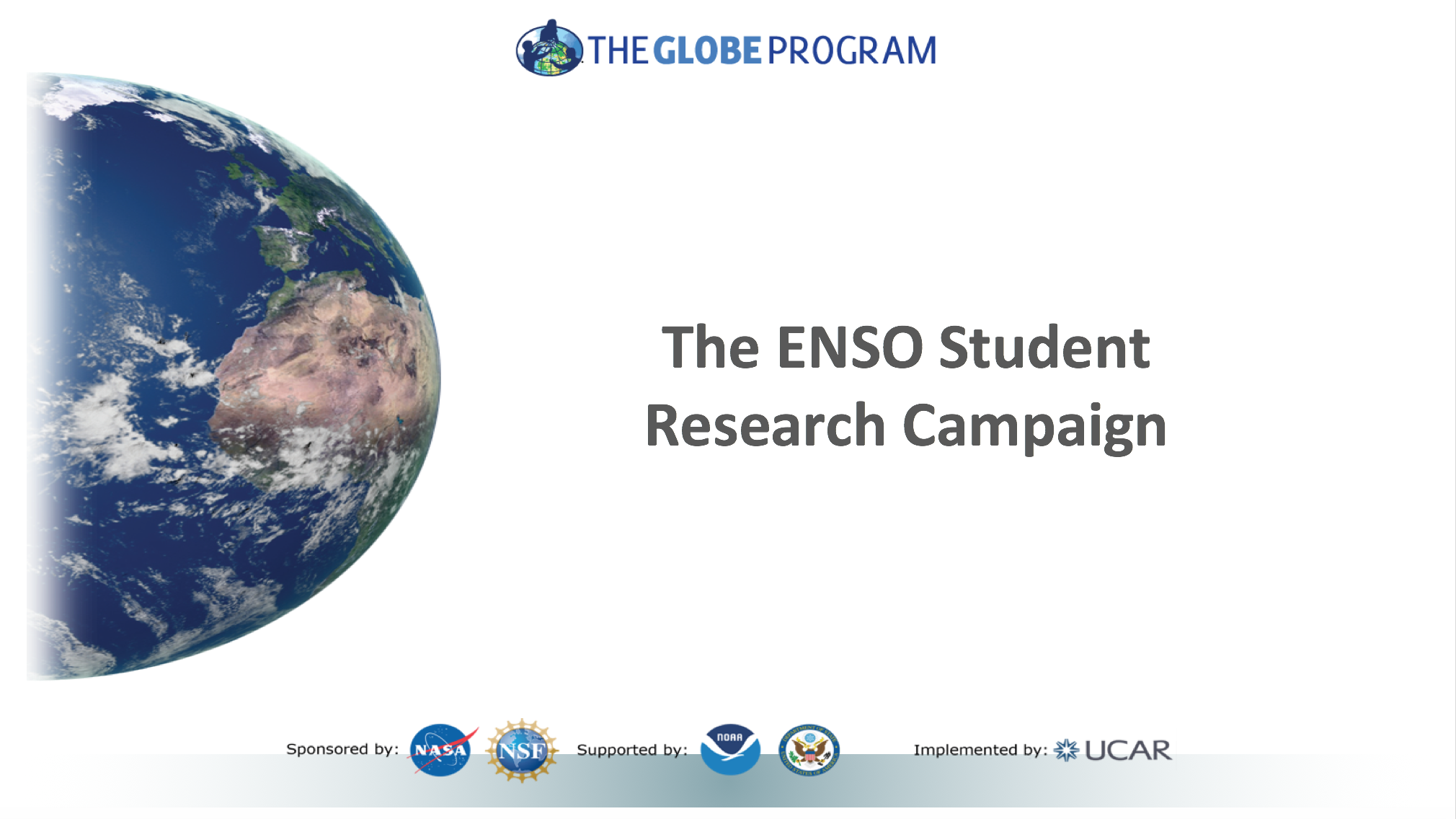 GLOBE Suite of Protocols:
All data is reported to the GLOBE Data Entry portal as usual, but this campaign page will provide an additional venue for analysis and collaboration. As you are using these protocols with your students, please share any good ideas (or problems overcome) on the Tips for Implementation discussion board.
Frequency:
Take observations at least 21 days per season. Although there are several ways to define seasons, we are using the meteorological definition as given in the chart below. If you want to learn more about the differences between astronomical and meteorological seasons, here is an explanation from NOAA's National Centers for Environmental Information, another from the UK Met Office, and a fun video from PBS Digital Studios titled "Why Seasons Make No Sense."
Season Chart
| | | |
| --- | --- | --- |
| Dates | Northern Hemisphere | Southern Hemisphere |
| March 1 - May 31 | Spring | Fall/Autumn |
| June 1 - August 31 | Summer | Winter |
| September 1 - November 30 | Fall/Autumn | Spring |
| December 1 - February 28/29 | Winter | Summer |
The ENSO Student Research Campaign Student Scaffold:
While your students continue to collect data for the ENSO Student Research Campaign, think about how you can have your students interpret the data they are collecting and expand upon its use. From science fair projects to student research projects to ENSO Tales & Stories (see below for more details), your students can come up with great ways to use the data they are collecting to tell a story of how El Niño (and La Niña if those conditions develop) is affecting local environments to having global impacts.
Below is the ENSO Student Research Campaign Student Scaffold. This is the step-by-step process envisioned by the ENSO Team and fellow educators. We really want you and your students to come up with some awesome ideas on how to use the data you are collecting!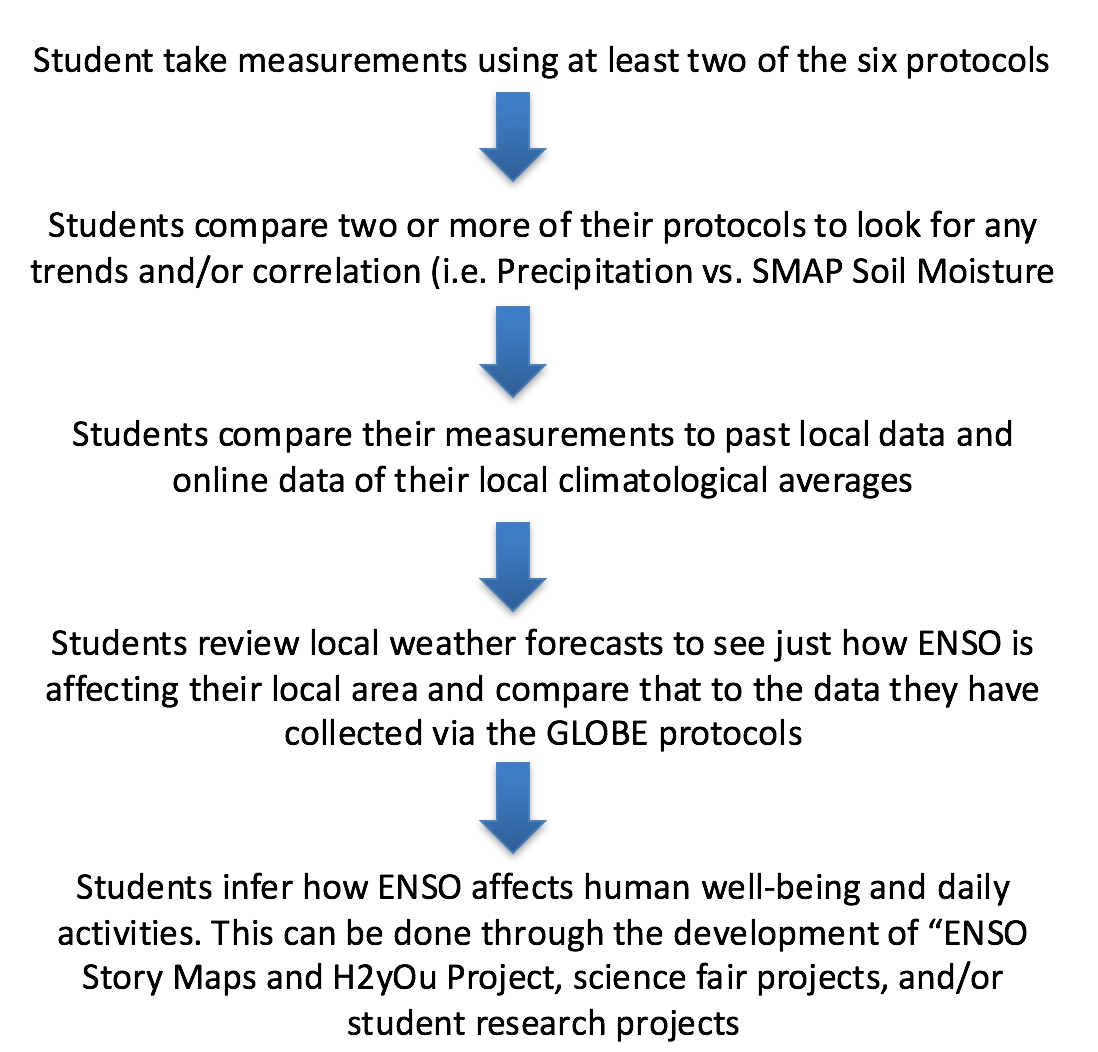 Data Analysis:
Monthly averages of the different temperature measurements and monthly totals of precipitation can be calculated for each measurement month and correlated with photographs of phenology changes and biometry. These local analyses can be compared across the participating GLOBE schools and examined in the broader spatial context afforded by satellite observations.
Precipitation and air temperature may be the easiest protocols to find long-term averages (either from GLOBE or other sources) to compare to your daily observations, for example by looking for data from the nearest airport. Additional tools can be found on the Analysis Tools page, and we encourage you to share any useful processes you develop on the Tips for Implementation discussion board.
The main reason that it is recommended to collect data for at least two of the six protocols, is to provide multiple sources of data to compare and identify how these measurements are being affected by the El Niño phenomenon. With this data analysis, students can expand this information to develop science investigations, research projects, and science fair projects.
In addition to reporting your data to the GLOBE database, we encourage you to share other observations, data analysis, and interesting reports of student research projects on the Data Analysis and Student Research Gallery discussion board.
More About ENSO Tales & Stories:
Enso is a Japanese character that means circle. "It symbolizes absolute enlightenment, strength and elegance" as well as creativity.
ENSO is the acronym of El Niño Southern Oscillation, defined as periodic changes in the surface temperature of the sea along the equatorial Pacific Ocean with effects on the normal ocean temperatures, inducing changes in the weather patterns around the world.
The ENSO also has an effect on living things, affecting animal behavior, migrations patterns, growing of plants, and human economic activities. For example, fish have to migrate looking for lower temperatures in the Peruvian sea, more plants appear in the desert, some typical foods as "cebiche" in Peru increases its cost, fishermen need sail to sail for longer periods of time to find fish, etc.
We want to invite you to investigate more about what happen in your city, country or region when the ENSO is present and use all the creativity that "ENSO" means to write a short tale imagining what happens, for example, when a group of fish need to travel to find lower temperatures in South America, what about birds? And people?
The story should be original and related to ENSO written in letter Arial 12 letter with 3 pages maximum, you can add pictures or drawings to your story, please let us to publish your story in in our "Tales for El Niño" Book.
You can discuss your students' ideas and post your stories and research/science fair topics HERE!