GLOBE Data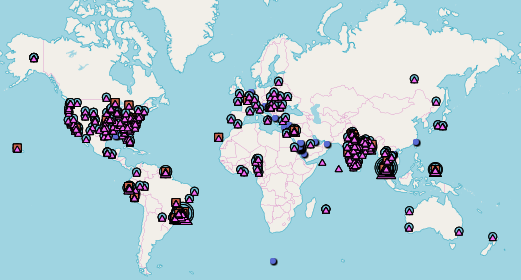 When you collect mosquito observations using the GLOBE Observer App, your findings are entered into the GLOBE database and Visualization System. The observations contributed by citizen scientists for this project will be crucial in identifying dangerous mosquito habitats. With this information, and the subsequent elimination of breeding sites, citizens can live more safely in their communities, and public health officials and policy makers can help inform decisions around potential future Zika outbreaks.
Visualizing and retrieving data are the easiest way to explore all GLOBE data, including mosquito data. The capability provided includes various maps, graphs, and data tables. Users may download data for use in their own analysis systems. Researchers interested in obtaining large sets of GLOBE data beyond the capabilities of the tools on the website should contact GLOBE at help@globe.gov.
Visualization System
GLOBE provides the ability interact with data measured across the world. Enter the Visualization System to map, graph, filter and export mosquito data and more. Additional features and capabilities are continually being added.
Tutorials on Using the Visualization System
Mosquito Protocol Bundle
While any GLOBE protocols can be used to better understand your local environment, a combination of these GLOBE protocols can help us better understand mosquitoes, such as breeding patterns.
View the full Mosquito Protocol Bundle and case study here!
GLOBE Kits
To successfully use the Mosquito Habitat Mapper protocol within the GLOBE Observer App, create a "Kit" with the following items:
Magnifying lens that attaches to a mobile device (smart phone or tablet compatible with the GLOBE Observer App) (60x-100x)

Latex gloves and goggles (to safely collect the water sample)

Water bottle, ketchup bottle, turkey baster, or bucket (to collect larvae sample)

Plastic bag (to transport larvae sample)

Permanent marker (to write date and location of where sample was taken on the collection bag)

Ethanol OR hand sanitizer (to euthanize larvae)

Pipette (to transfer sample from sampling container to plate)

White plastic plate (to view and count the larvae in your sample)

Paper towels (to keep the observation area clean and dry)

Probe (bamboo skewers or toothpicks to help with larvae identification)

Vial (to store larvae samples - for individuals conducting training workshops)
Analyze Data with the Common Online Data Analysis Platform (CODAP)
Following education and data collection, data analysis is a crucial next step for individuals or communities to take in the fight against Zika. CODAP is free online tool that enables anyone to become a data analyst. Whether for a student, teacher, or public health official, CODAP provides the basic necessary tools to make sense of large datasets. You can upload GLOBE data or other files to the platform depending on your needs.
Visit the CODAP homepage here. View the "getting started" tutorials here.