GISN Webinars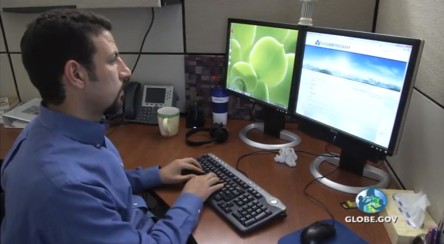 The GLOBE International STEM Network (GISN) is a global community where scientists mentor students and teachers, present scientific ideas, and/or collaborate on scientific research. The GISN hosts webinars that provide tools and tips for scientists interacting with teachers and students.
Learn more about the Official 2015 GISN Webinars
Jump to a webinar:
---

The Nuts & Bolts of Using GLOBE To Do Outreach & Education
This webinar covers some basic information about the GISN such as how to apply and ways to participate.
Facilitator: Amy Barfield (GLOBE)
Use the timestamps below to find relevant links that correspond with our webinar topics:
| | | |
| --- | --- | --- |
| Time | Item | Links |
| 00:37 | Agenda |   |
| 00:55 | What is GLOBE? |   |
| 2:14 | GISN Overview | |
| 04:43 | Members | |
| 07:07 | GLOBE Accounts (creating, eTraining, editing) | |
| 11:37 | Applying to the GISN | |
| 13:43 | Ways to Participate | |
| 17:07 | Writing a Blog Post on globe.gov | |
| 19:36 | Proposing a Field Campaign | |
| 21:00 | Volunteering at GLOBE Events | |
| 24:34 | GISN Resources | |
| 27:29 | Member Activity Form | |
| 28:48 | How to Partner with GLOBE | |
| 31:48 | Find a Project Collaborator Tool | |
|   | End | |
---

How to use GLOBE Earth System Science Data In Your Research & Teaching
Did you know that GLOBE scientists use student data to further their own scientific investigations? Check out our videos below to learn more about how GLOBE scientists incorporate student data in their research and teaching:
 
GLOBE Mosquito Project
Dr. Mullica Jaroensutasinee & Dr. Krisanadej Jaroensutasinee from GLOBE Thailand present their Mosquito protocol, research, and educational activities with students.
GLOBE Aerosols Campaign
Bára Semerákóva from GLOBE Europe and Eurasia discusses the GLOBE Europe Aerosols Campaign.
Using GLOBE as a Tool for Inquiry
Dr. Todd Ellis of the NASA CloudSat satellite mission discusses how he uses GLOBE as a tool for inquiry in undergraduate classes.
GLOBE's Data Quality Assurance
Travis Andersen of the GLOBE Implementation Offices discusses GLOBE data quality.
---

Role Model Training
GLOBE's Dr. Julie Malmberg shares role model training materials for outreach in K-12 settings, ranging from SciGirls, Tech Bridge, and GLOBE materials.
---

How To Do Outreach
GLOBE's Dr. Julie Malmberg presents sample outreach activities for classroom engagement in K-12 and undergraduate settings, including SciGirls and GLOBE materials.
---

Previous GISN Webinars
Adventures of a Scientist in the K-12 Classroom
Dr. Lin Chambers shares lessons learned from her experiences speaking with students from kindergarten through high school, in multiple states and on three continents, in two and a half languages, in person and through virtual connections since 1997. Lin is a phsycial scientist in the Science Directorate at the NASA Langley Research Center, where she leads the S'COOL Project and MY NASA DATA. She was the Contrail Scientist for The GLOBE Program from 2003-2006.
Meaningful Teacher-Scientist Relationships: How to Make It Work
K-12 schools are very different from the university and research world, and working with a teacher or visiting a classroom can be very intimidating. In this webinar, Einstein Fellow and Enviornmental Science Teacher Linsday Knippenberg shares ideas for planning classroom visits, collaborating while in the field, and building a lasting, two-way partnership between the teacher and scientist.