Family Cloud Challenge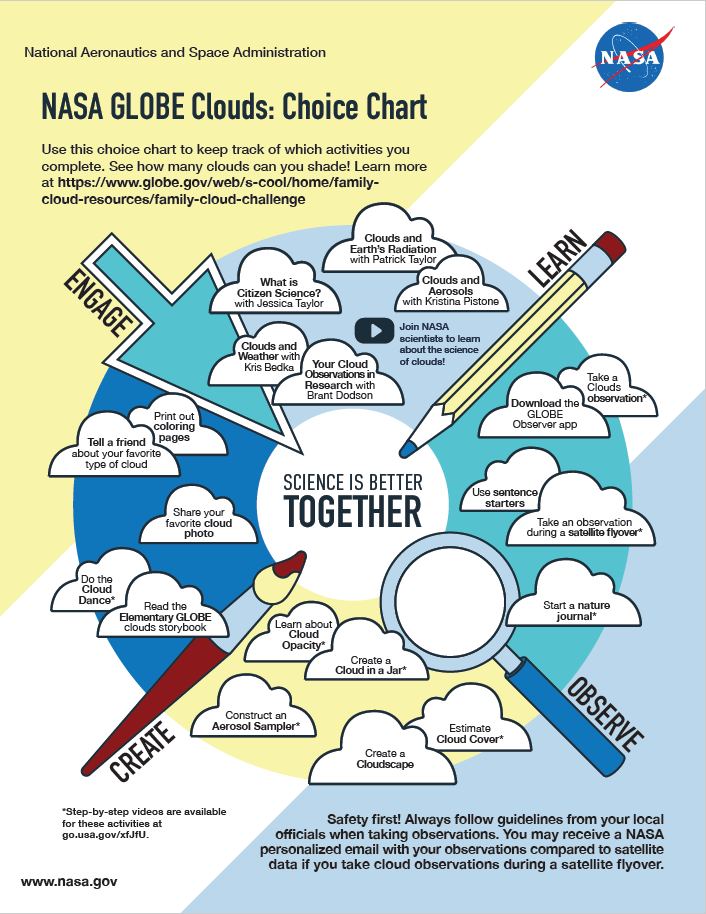 The Family Cloud Challenge is a list of activities and videos you can do, watch, and interact with as a family to see how many you can complete!
Use the NASA GLOBE Clouds Choice Chart to keep track of activities and see who can shade the most clouds! The activities in the choice chart are divided into four main topics: Learn, Create, Engage, and Observe. Discover more about the activities within each topic below.
You can also discover the science of clouds alongside NASA scientists and GLOBE educators. Visit the Science of Clouds Videos and learn more about the role of clouds in weather, in Earth's climate, the relationship between clouds and aerosols, learn more about what is citizen science and your observations matched to satellite data, and how your cloud observations are used in research.
NASA GLOBE Clouds Choice Chart
Click on the image above to download a copy of the choice chart. Here are the activities for each topic:
Learn with videos about clouds:

Create with clouds:
These videos feature activities related to the science of clouds video topics. If you're looking for even more activities, check out our full Clouds Resource Library.
Engage with the cloud observer community:
As you complete activities or take observations, share your results with us through social media using #CloudChallenge or by tagging GLOBE.
Tell a friend about your favorite type of cloud

Print out coloring pages. Free coloring pages are available for each Elementary GLOBE story book.

Share your favorite cloud photo with a friend or on social media

Do the Cloud Dance

| | |
| --- | --- |
| | Do you know that clouds get their names from their shape, how high they are in the sky, and if they produce precipitation? Follow along with NASA scientist Marilé Colón Robles and her two daughters as they do the cloud dance and other activities. |

Do you know that clouds have names?

| | |
| --- | --- |
| Read the Clouds Elementary GLOBE Storybook. Through the Clouds Elementary GLOBE Storybook (available as free PDF and eBook), "Do you know that clouds have names?," you can discover different cloud types and learn tips for identifying each. | |

Follow GLOBE on social media:
Observe clouds:
As you're taking cloud and sky observations, be sure to think safety first! Just like NASA scientists, we ask that you always be safe and follow your local regulations. If it is safe, you can participate by submitting clouds, dust, haze or smoke observations to GLOBE using any of GLOBE's data entry tools including the Clouds tool on the GLOBE Observer mobile app. GLOBE welcomes citizen scientists, educators, students and STEM professionals. Create an account on the GLOBE Getting Started page or in the GLOBE Observer app.
Take an observation during a satellite flyover (read more about how the satellite comparison works, versión en español sobre la correspondencia con el satélite)

| | |
| --- | --- |
| | Join NASA scientists Marilé Colón Robles, Tina Rogerson and NASA educator Heather Mortimer share why satellite matches to GLOBE cloud observations are important and how to read a satellite match table. |

Use sentence starters on the GLOBE Clouds Family Guide while you are doing an observation (comienzos de oraciones disponible en español) .

Start a nature journal (for a simple place to start, try the "Cloud Fun" activity, versión en español "Diversión con Nubes")